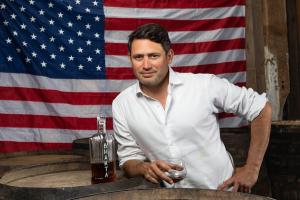 Raj Peter Bhakta is restoring Green Mountain College to its educational roots—and leading a mission to Revive Vermont
Booze Tycoon Raj Peter Bhakta Has Resurrected a College Campus — And Promises To Revive Vermont
This is just the beginning of our mission to revitalize Green Mountain College and return prosperity to our home of Poultney, Vermont. Together, we will Revive Vermont—in 2023, 2024, and beyond."
— Raj Peter Bhakta, Founder of BHAKTA Spirits
POULTNEY, VERMONT, USA, June 20, 2023/EINPresswire.com/ — BHAKTA Spirits, a luxury craft spirits brand known as the world's preeminent "House of Vintages," announced today the next phase of its ambitious plans to resurrect and revitalize Green Mountain College.
Beginning this summer, the rechristened BHAKTA-GRISWOLD Campus — which also serves as the company's global headquarters — will welcome the inaugural class of a postgraduate, early-career educational training program encompassing every facet of the drinks industry. All candidates who successfully complete the program will receive offers of full-time employment from BHAKTA Spirits.
After years of mismanagement, waste, and declining enrollment, Green Mountain College finally closed its doors in 2019. BHAKTA Spirits Founder Raj Peter Bhakta, also the founder of Vermont's iconic billion-dollar spirits brand WhistlePig Whiskey, purchased the historic 115-acre campus at auction in 2020 — lock, stock, and barrel. (Since then he has added a goodly number of barrels to the campus; they contain the world's oldest and most valuable collection of vintage spirits, dating all the way back to 1868.)
Driven by a bold and optimistic vision of rural renewal, the revitalization of a broken higher education system, and the return of much-needed economic prosperity to an overlooked region of Vermont, Bhakta has now launched the next phase of his mission to Revive Vermont.
"As higher education has strayed further and further from its noble and intended purpose to inspire hard work, promote independent thought, and cultivate timeless values, recent graduates of America's top schools are seeking an alternative form of hands-on learning that will serve their interests and goals," said Founder Raj Peter Bhakta. "BHAKTA-GRISWOLD's educational program will do exactly that: identify and uplift motivated graduates; equip them with hands-on training on all facets of a booming, trillion-dollar global industry; and teach them the crucial skills they need to be productive professionals and community-minded citizens. And if these efforts help free young Americans from the dogmas that have seemingly ensnared higher education in an ideological vise, that wouldn't be so bad either."
The launch of BHAKTA-GRISWOLD's educational program symbolizes the ambitious entrepreneur's pivotal next step in restoring Green Mountain College, founded in 1834, to its centuries-old educational mission — revitalizing its campus as a bastion of free thought, entrepreneurship, tradition, and environmentally-focused higher learning.
Since the application window has opened, recent graduates from America's most prestigious schools — including a range of elite and Ivy League institutions — have already applied. Bright, energetic, and ambitious aspiring entrepreneurs with a keen interest in the drinks space and a penchant for storytelling are encouraged to submit their application to join the ranks of an inspiring, mission-driven team dedicated to revival and revitalization.
The program's inaugural Class of '23 will participate in the most comprehensive spirits industry training curriculum in America, receiving a hands-on education directly from one of the most successful spirits entrepreneurs of the last half century. In each unit, students will learn directly from icons and luminaries such as Master Distillers, marketing and brand-building gurus, founders and finance experts, and some of the most successful salespeople in spirits today.
"This is just the beginning of our mission to revitalize Green Mountain College and return prosperity to our home of Poultney, Vermont," Bhakta added. "Together, we will Revive Vermont — in 2023, 2024, and beyond. The best is yet to come."
About BHAKTA Spirits

BHAKTA Spirits (https://www.bhaktaspirits.com) is the world's preeminent House of Vintages. Founded by visionary entrepreneur Raj Peter Bhakta — also the founder of WhistlePig Whiskey — BHAKTA offers a luxury craft spirits portfolio of limited release Single Vintage whiskeys, brandies, rums, and more, anchored by its ancient and awe-inspiring Armagnac holdings dating back to 1868. An innovator in the experiential hospitality space with a mission to help guests "Find Their Spirit," BHAKTA's unique destinations include historic properties in France, Vermont, and Florida. BHAKTA Spirits is headquartered on its BHAKTA-Griswold Campus in Poultney, VT, the former site of Green Mountain College.
About OVERTON & ASSOCIATES

OVERTON & ASSOCIATES (https://www.overtonandassociates.com) is a strategic communications and mythbuilding agency based in Manhattan. Representing a range of clients across wine, spirits, publishing, and politics — and animated by a mission to "Move the Window" of perception in an increasingly surreal media landscape — OVERTON champions concepts whose time has come
Andrew Lohse
OVERTON & ASSOCIATES
+1 908-334-6924
[email protected]
Visit us on social media:
LinkedIn


Originally published at https://www.einpresswire.com/article/640388742/bhakta-spirits-renews-educational-mission-of-shuttered-vermont-college