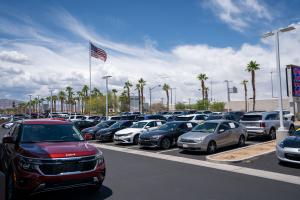 Jim Marsh Kia Vehicle Inventory Lot
Jim Marsh Kia Logo
Automotive Dealership in Las Vegas Partners with 'The Las Vegas Farm' to Show Continued Support to the Community
LAS VEGAS, NEVADA, UNITED STATES, July 21, 2023/EINPresswire.com/ — Jim Marsh Kia, a reputable automotive dealership in Las Vegas, is delighted to announce its partnership with 'The Las Vegas Farm' as part of its unwavering commitment to supporting the local community. This collaboration serves as a testament to Jim Marsh Kia's dedication to fostering sustainable practices, strengthening community ties, and enhancing the well-being of its customers.
As part of this partnership, Jim Marsh Kia has taken a unique initiative to support 'The Las Vegas Farm' by purchasing their locally-made honey. Every single penny generated from the sales of 'The Las Vegas Farm' products is channeled directly to the rescue and well-being of farm animals suffering from abuse, neglect, or abandonment in the valley. These rescued animals are provided a safe haven at 'Barn Buddies Rescue', a non-profit organization committed to rescuing farm animals in Nevada.
In a bid to provide an exceptional experience to its customers, the dealership will now provide a jar of farm-fresh honey with every purchase of a new vehicle. This gesture not only demonstrates Jim Marsh Kia's commitment to supporting local businesses but also highlights their dedication to providing value-added benefits to their customers.
The decision to partner with 'The Las Vegas Farm' and offer their honey aligns perfectly with Jim Marsh Kia's mission to constantly contribute to the community. By showcasing and promoting the farm's organic honey, the dealership aims to raise awareness about the importance of sustainable agriculture and encourage customers to support local farmers. It also reinforces Jim Marsh Kia's position as a socially responsible organization that actively seeks opportunities to make a positive impact in the community.
Jim Marsh Kia's partnership with 'The Las Vegas Farm' goes beyond simply purchasing honey. The dealership is dedicated to organizing various community-oriented events and initiatives to support the farm's mission. These events will provide customers and community members with educational opportunities to learn about sustainable farming practices and the significance of local agriculture.
In addition to gifting farm-fresh honey, Jim Marsh Kia will actively engage with the local community through outreach programs, sponsorships, and collaborative projects with 'The Las Vegas Farm.' By leveraging their resources and expertise, both entities will work together to enhance the overall well-being of the community.
"We are proud to partner with 'The Las Vegas Farm' and offer our customers the delightful experience of farm-fresh honey," said Attia Mansour, General Manager for Jim Marsh Kia. "Our collaboration exemplifies our commitment to supporting the local community and promoting sustainable practices. We believe that by working together, we can make a meaningful difference and contribute to the growth and development of our beloved city."
Jim Marsh Kia has always prioritized community involvement, and this partnership reflects their ongoing efforts to support local businesses and initiatives. The dealership's dedication to sustainability and its genuine interest in enhancing the lives of its customers are at the forefront of this collaboration. For more information about Jim Marsh Kia's partnership with 'The Las Vegas Farm' and the farm-fresh honey offer, please visit www.jimmarshkia.com or contact Wesley Baker at +1 702-946-1000 or [email protected].
About Jim Marsh Kia:
Jim Marsh Kia is a leading automotive dealership based in Las Vegas, Nevada. With a wide range of new and used vehicles, exceptional customer service, and a strong commitment to community involvement, Jim Marsh Kia has established itself as a trusted name in the automotive industry. The dealership takes pride in its sustainable business practices and is dedicated to making a positive impact on the local community.
About The Las Vegas Farm:
The Las Vegas Farm is a renowned local farm committed to sustainable and organic farming practices. With a focus on providing high-quality, locally sourced products, the farm plays an integral role in promoting healthy living and supporting the local economy. By partnering with Jim Marsh Kia, The Las Vegas Farm aims to raise awareness about sustainable agriculture and build a stronger, more connected community.
Wesley Baker
Jim Marsh Kia
+1 702-946-1000
email us here
Visit us on social media:
Facebook
Twitter
Instagram


Originally published at https://www.einpresswire.com/article/645750366/jim-marsh-kia-partners-with-local-las-vegas-farm-to-show-continued-support-to-the-community