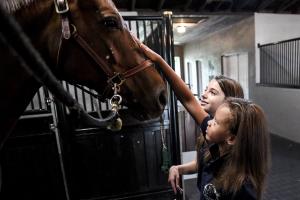 Two Horses Healing Hearts participants enjoy a remarkable connection
Horses Healing Hearts participants and family members with HHH Volunteers
Marco Bernal, Dressage Champion, welcomed children from Horses Healing Hearts for a Special Photo Session with USA TODAY Network Photographer, Ron Elkman.
We hope this event will inspire others to support the remarkable work of Horses Healing Hearts in their transformative efforts, empowering the children to discover their inner strength."
— Marco Bernal
WELLINGTON, FLORIDA, UNITED STATES, June 26, 2023/EINPresswire.com/ — Marco Bernal, world-renowned Dressage Champion, joined forces with Horses Healing Hearts (HHH), to host an extraordinary event for children on Monday, June 12, 2023, at his facility in Wellington, Florida. Here, Ron Elkman, renowned USA TODAY Network photographer immortalized the children's interactions with the horses, creating a visual narrative that embodies the transformative power of the horse-human connection.
Horses Healing Hearts is a non-profit organization dedicated to supporting children whose lives have been negatively impacted by addiction within their families. By connecting children with horses, the organization provides a nurturing environment that fosters trust and promotes resilience.
Marco Bernal, an Equestrian Ambassador for HHH, generously offered his state-of-the-art facility as the venue for this remarkable event. Nestled in the scenic beauty of Wellington, Bernal's facility provided a serene setting that promoted tranquility and encouraged the children to connect with horses in a safe and welcoming environment.
The children of HHH engaged in activities specially designed to promote emotional healing and personal growth. Their connection and fascination with the horses were further strengthened by Marco Bernal sharing the ribbons, photos, and performance awards he has earned in Dressage over the last 40 years.
"We are thrilled to welcome the HHH children to my facility for this special event," expressed Marco Bernal. "We hope to bring awareness to the healing potential of horses and inspire others to support the remarkable work of Horses Healing Hearts in their transformative efforts, empowering the children to discover their inner strength."
For media inquiries or to arrange an interview with Marco Bernal, Ron Elkman, or representatives from Horses Healing Hearts, please contact:
Lizabeth McGough-Olszewski
Executive Director / Founder
[email protected]
561.713.6133
###
Lizabeth McGough-Olszewski
Horses Healing Hearts
+1 561-713-6133
email us here
Visit us on social media:
Facebook
LinkedIn
Instagram
YouTube
Other
Horses Healing Hearts in Palm Beach County – helping children heal from trauma
https://www.youtube.com/watch?v=AD6IhB1O_v0


Originally published at https://www.einpresswire.com/article/640517879/marco-bernal-dressage-champion-welcomed-children-from-horses-healing-hearts-for-a-special-day-at-equine-facility