Infused pre-rolls take center stage in the Canadian cannabis market, with a staggering growth rate of nearly 606% over the past year
Data shows pre-rolls are poised to overtake flower as the leading product category in Canada
KENT, Wash., Sept. 18, 2023 (GLOBE NEWSWIRE) — Custom Cones USA, the cannabis industry experts in pre-rolls, pre-roll packaging, and pre-roll manufacturing solutions, today released a report revealing that pre-rolls emerged as the second-largest product category in Canada, poised to overtake flower as the leading category. Notably, infused pre-rolls have seized the spotlight with a staggering growth rate of nearly 606% over the past year. Specifically, infused pre-rolls grew from 6.2% of total sales in January 2022 to an incredible 29.8% of total sales by February 2023, a growth rate of nearly 606%.
In 2022, Canada Experienced a 54% Increase in Pre-Roll Sales Revenue
The Canadian pre-roll segment continues to experience robust growth, with total pre-roll revenues exceeding CAD$1 billion in 2022, reflecting a staggering increase of more than 54%. This remarkable surge in sales was observed across every tracked province, from Saskatchewan and Alberta, which saw growth rates of 33% and 37%, respectively, to British Columbia, with nearly 54% growth, and a remarkable 69% increase in Ontario, the country's most populous province. One major growth driver is the increase in sales of the pre-rolls, particularly infused pre-rolls.
Pre-Rolls Emerge as the Second-Largest Product Category in Canada
According to industry data, pre-rolls have become the second-largest category in Canada, capturing a 28.9% market share over the first five months of 2023, marking a year-over-year growth of 23.5%.
According to Headset data, in 2022, pre-roll products accounted for 27% of the new items introduced in the Canadian market, demonstrating a remarkable growth rate of 48.2% compared to 2021, second only to beverages. In response to the increasing demand in this category, a total of 1,870 new pre-roll products were launched in the Canadian market during that year.
Pre-rolls are Poised to Overtake Flower as the Leading Product Category in Canada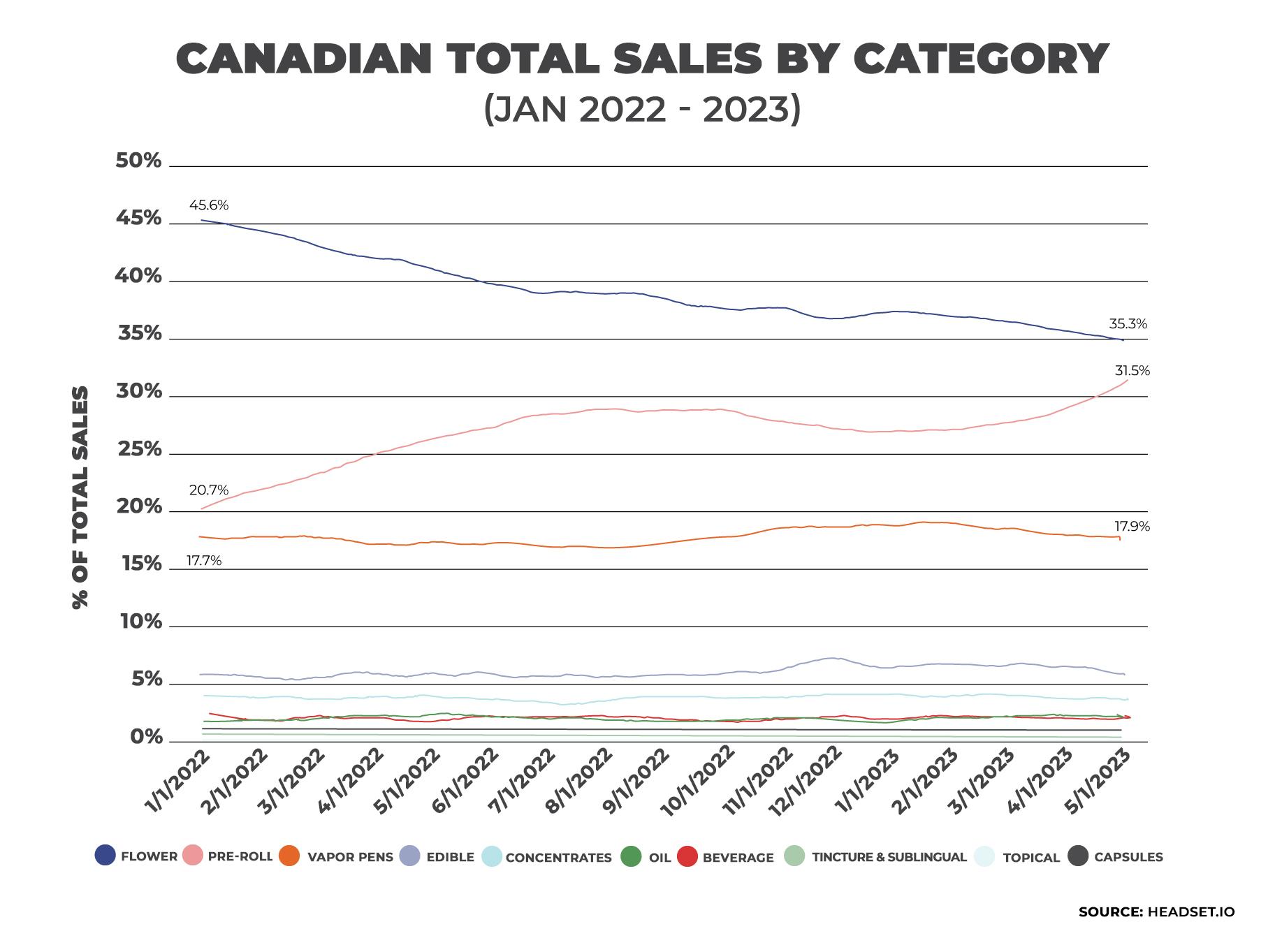 The data reveals a significant shift in consumer preferences, with pre-roll sales in Canada surging by more than 50% over the past 18 months. Pre-rolls have witnessed a substantial increase in market share, rising from 20.7% in early 2022 to an impressive 31.5% by mid-2023. Concurrently, the market share of flower has steadily declined from over 45% to slightly over 35% during the same period. At this rate, pre-rolls will soon become the most popular product category in Canada.
Health Canada's stringent regulations initially limited the availability of infused pre-rolls, but a rule clarification in late 2021 opened the doors to these products. As a result, infused pre-rolls have experienced explosive growth, increasing by a remarkable 1,426% from 2021 to 2022. This segment's rapid expansion, driven by consumer demand for connoisseur pre-rolls that combine concentrates with ground flower, has had a profound impact on the Canadian cannabis market.
Pre-rolls Exhibit the Least Amount of Price Compression in Both the U.S. and Canada
The resilience of pre-roll prices can be partially attributed to their manufactured nature and the unique attributes of infused pre-rolls. The demand for stronger pre-rolls, coupled with declining prices for flower and concentrates, has created a favorable environment for launching infused pre-roll products.
"The surge in popularity of infused pre-rolls, with their higher price point, has been a significant factor contributing to the increase in the average price of Canadian pre-rolls," said Harrison Bard, Co-Founder and CEO of Custom Cones USA. "This trend has been instrumental in maintaining the overall price of pre-rolls even as prices for flower and concentrates have decreased."
After taking a closer look at the data, it is clear that Canada is not only seeing incredible growth in the pre-roll market, but they are setting the pace for infused pre-roll growth for the entire industry. As pre-roll manufacturing equipment evolves and the costs of flower and oil decline, producers are now capable of manufacturing infused pre-rolls at only a slight premium over regular pre-rolls. Consequently, as consumers are presented with this choice, an increasing number are opting for the infused variety, resulting in heightened sales within the category and greater revenues for both producers and retailers.
To view the full report go to: https://customconesusa.com/pre-roll-expert-knowledge-center/preroll-growth-in-the-canadian-market/
About Custom Cones USA
Founded in 2017 by Harrison Bard and Fredrik Rading, Custom Cones USA is a leading pre-roll resource in the cannabis industry. The team has a wealth of knowledge about all aspects of pre-roll manufacturing and the entire pre-roll sector of the cannabis space. From custom-branded pre-rolled cones and wholesale bulk cones, to completely customized pre-roll packaging projects and pre-roll machines, they offer expertise and solutions to companies big and small in all sectors of the pre-roll space. Custom Cones USA wants to help their customers operate with relative ease and ensure both the companies and their customers to have the highest quality smoking experience.
Media Contact
Oak PR
Drew Tybus
[email protected]
Photos accompanying this announcement are available at:
https://www.globenewswire.com/NewsRoom/AttachmentNg/c1fd5f31-721c-4cd9-bad2-7dc2f9c62460
https://www.globenewswire.com/NewsRoom/AttachmentNg/61d73880-8bd6-4f91-bc38-284ee9de3740

Originally published at https://www.einpresswire.com/article/656254823/new-report-reveals-pre-rolls-emerge-as-the-second-largest-product-category-in-canada-poised-to-overtake-flower-as-the-leading-category