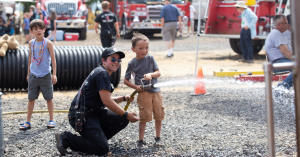 There are a lot of activities for kids, including the Firefighting Challenge Course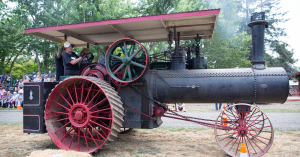 See giant machines and engines of the past come to life!
Join the 53rd Great Oregon Steam-Up, an award-winning festival celebrating Oregon's mechanical history with engaging activities and live demonstrations.
BROOKS, OREGON, UNITED STATES, July 18, 2023/EINPresswire.com/ — The Great Oregon Steam-Up, winner of the "Best Annual Event" in the Willamette Valley for two consecutive years, is set to celebrate its 53rd year. This unique, family-friendly festival honoring Oregon's mechanical history in motion is scheduled for two fun-filled weekends: July 29 & 30 and August 5 & 6.
The festival, recognized as an "Oregon Heritage Tradition" will take place at the Powerland Heritage Park, a 62-acre campus that borders Salem/Keizer.
"Hundreds of volunteers have put a tremendous amount of work into ensuring The Great Oregon Steam-Up is an unforgettable experience for attendees of all ages," says Chad Taylor, the event coordinator. "The Great Oregon Steam-Up is a perfect blend of education and entertainment, where kids and adults alike can interact with the machinery that built this state."
Highlights of The Great Oregon Steam-Up include a grand 'Parade of Power', featuring an impressive assortment of steam traction engines, tractors, fire engines, trucks, and cars. The festival also offers an incredible opportunity to watch live demonstrations of historic crafts such as blacksmithing, threshing, binding, logging, flour milling, and steam-powered saw-milling.
Families can look forward to a myriad of fun activities, from miniature train rides and a firefighting challenge course to pedal tractor pulling and a LEGO display. There are also historic trolleys that guests can ride on and lots of food to eat.
The Great Oregon Steam-Up also opens the doors of 14 on-site museums, giving visitors a unique chance to delve deeper into Oregon's past.
"Every year, we strive to bring Oregon's rich mechanical history alive in the most engaging manner," says Michelle Duchateau, president of the Antique Powerland Museum Association which oversees the event. "The Great Oregon Steam-Up is not just an event, but a testament to our collective heritage. It's a unique experience for families to not only enjoy and learn, but also to be part of this living history."
Full details, including how to purchase tickets and FAQs, can be found on The Great Oregon Steam-Up website at https://www.antiquepowerland.com/steam-up and the event Facebook page at https://www.facebook.com/thegreatoregonsteamup
About The Great Oregon Steam-Up
The Great Oregon Steam-Up, now in its 53rd year, is the flagship event at Powerland Heritage Park. Recognized as an "Oregon Heritage Tradition," it's the biggest event of its kind in the region. Run entirely by volunteers, the event continues to illuminate Oregon's vibrant mechanical history, offering an unrivaled, hands-on educational experience for all ages.
Joe Tracy
Powerland Heritage Park
[email protected]
Visit us on social media:
Facebook
Instagram
YouTube
2023 Great Oregon Steam-Up


Originally published at https://www.einpresswire.com/article/645059243/step-back-in-time-the-great-oregon-steam-up-returns-for-its-53rd-year