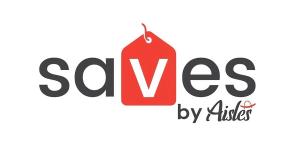 The sophisticated couponing system has been designed to improve the retail shopping experience.
PORTLAND, OREGON, USA, July 1, 2023/EINPresswire.com/ — To help people combat rampant inflation, Portland-based tech startup Aisles has launched a sophisticated couponing system called SAVES. The 'Smart Algorithm for Voucher Evaluation and Scoring' scans the internet to find the best deals and discounts available on the web, based on the person's shopping list. It also suggests alternatives from different brands if they come at a lower cost. The mechanism works both online and when the person is about to check out at the store.
Talking to the media, Ignacio Rosales, co-founder of Aisles, said, "SAVES is our answer to the complex world of couponing. We understand how time-consuming and overwhelming it can be to search for discounts, especially when people have a long list of items to buy. SAVES takes care of the whole process and is perfect for busy people who don't have the time to do it themselves. It's like having a personal shopper who always finds the best deals for them. We hope this will help more households save extra money and contribute to improving their financial standing."
One of the unique features of SAVES is that it finds hidden coupons that users might not discover otherwise. Rosales elaborated, "We've programmed SAVES to be as exhaustive as possible in its search for deals. It digs deep into the web to uncover hidden coupons that can save you money."
The company operates on a 'no savings, no earnings' principle. This means that SAVES doesn't make money unless it saves money for the customers. "It's a win-win situation for the customers. They only pay when they save," said Rosales. The technology also helps improve efficiency levels in the store, with clerks saving time when it comes to coupon verification.
Aisles' latest innovation is part of its mission to help enhance the shopping experience for users while boosting sales for retailers. People interested in learning more can visit their website today.
About Aisles: Aisles is a tech startup based in Portland, Oregon, that is working to improve the retail shopping experience with its products. The company uses AI-powered technology to tackle the common challenges in the retail sector and improve the shopping experience. Its recent launches, SAVES and Tech Wheels, have garnered a lot of attention from stakeholders across the planet.
Website: https://aisles.app/
Ignacio Rosales
Aisles
[email protected]
Originally published at https://www.einpresswire.com/article/642294851/aisles-have-launched-saves-to-help-shoppers-combat-inflation-and-save-on-their-next-shopping-trip