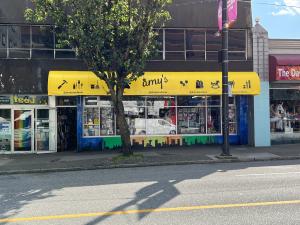 Amy's on Davie, a unique party store in Vancouver, is excited to announce its latest Halloween Collection and new decoration services for local businesses.
Overpaying for quality is a thing of the past."
— MR FEAST
VANCOUVER, BC, CANADA, July 19, 2023/EINPresswire.com/ — Amy's on Davie Unveils Halloween Collection and Decoration Services for Businesses: Celebrate Halloween In-Store, Online, and Across Vancouver
As Halloween draws near, Amy's on Davie is excited to announce its latest Halloween Collection, coupled with its new decoration services for local businesses. The one-stop party store is set to turn Vancouver's bars, nightclubs, and other venues into spooky paradises, making this year's Halloween an unforgettable experience city-wide.
Combining the best of a party store, balloon store, costume store, and dollar store, Amy's on Davie is dedicated to offering premium quality and affordable pricing. "This Halloween, we're extending our spirit of fun and fright beyond our store.
Amy's Halloween collection features an array of high-quality balloons from renowned brands, an extensive range of spooky costumes, and an exciting selection of unique decorations.
Adding to the mix is the newly launched decoration service designed specifically for businesses. From bars and nightclubs to event venues, Amy's on Davie will provide professional decorating services, ensuring each venue captures the spirit of Halloween perfectly.
"Our new decoration services aim to transform local businesses into Halloween hotspots, all while maintaining our commitment to quality and affordability," said Eric, the store's founder, popularly known as Mr. Feast on TikTok.
Alongside their comprehensive in-store offerings, Amy's on Davie has embraced the digital age with a streamlined online shopping platform. To provide an even more convenient shopping experience, free shipping is available on orders over a certain amount.
"Our goal is to make Halloween a spectacular event for everyone, from individual customers to businesses, all from the comfort of their premises. Our online platform, free delivery, and new decoration service are all ways we're saying 'Happy Halloween' to Vancouver," added Mr. Feast.
Get into the Halloween spirit with Amy's on Davie, in-store, online, or at your venue. Let's make this Halloween a celebration to remember without frightening your wallet.
About Amy's on Davie:
Amy's on Davie is a unique store combining a party store, a balloon store, a costume store, and a dollar store all in one location. With an emphasis on quality, affordability, and a wide selection, Amy's on Davie seeks to provide customers with everything they need to celebrate life's big moments and everyday occasions.
For more information, please visit our store or our website at www.amysondavie.ca, contact us at [email protected] or visit 1050 Davie Street, Vancouver, BC, V6E 1M3.
Eric Chuang
Amy's on Davie
+1 604-800-6998
[email protected]
Visit us on social media:
Facebook
Twitter
Instagram
TikTok
Other


Originally published at https://www.einpresswire.com/article/645112070/amy-s-unveils-halloween-collection-and-decoration-services-celebrate-halloween-in-store-online-in-vancouver