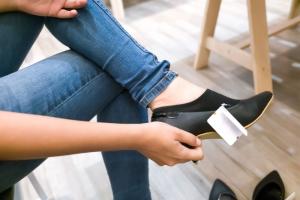 Safely try on shoes with Active Touch Try-on antimicrobial socks
Activated with TrioMed technology that kills 99.9% of microbes in 5 min.
TrioMed Active Medical Technology that kills 99.9%+ of microbes in 5 minutes is now integrated in Try-On Disposable Socks
Working with Canadian retailers we are aiming to completely change the sanitary conditions of customers that want to try on a new pair of shoes."
— Pierre J Messier, Executive Chairman
MIRABEL, QUEBEC, CANADA, June 15, 2023/EINPresswire.com/ — i3 Biomedical inc., a medical device corporation, is setting the new standard in sanitary conditions when trying on shoes at retailers with the ACTIVE TOUCH TRY-ON DISPOSABLE SOCKS.
When shopping for shoes it has to be comfortable and fit properly which requires trying shoes on at the store, but institutions such has the American Academy of Dermatology, the American Osteopathic College of Dermatology, and the Journal of Osteopathic Medicine all agree that in order to prevent contracting athlete's foot, plantar warts, nail fungal infection or other infections we should never wear a shoe that someone else has worn. Now that's a contradiction!!!
To complicate the situation, it is estimated that in the general population the annual incidence of warts (Virus) is 14 %, (ref.6) nail fungus infection is between 14% (North America) to 23 % (Europe) (ref.3) and an average of 20% for Athlete's foot (ref.1). So basically, one person in seven (1/7) is infected with warts and nail fungus and an average of one person in five (1/5) has Athlete's foot. Keeping in mind that we can be infected without apparent physical signs (asymptomatic), even if we are careful towards others, we can still infect the shoes we try at the retailers' without knowing it.

In short, when a customer tries on new shoes at a retailer, if the same shoe was tried by 5 to 7 people before me, it is very likely that the shoe is contaminated!
Buying a shoe without trying it is inconceivable and trying it is likely to expose us to infection. While responsible retailers have tried to help by providing basic Try On socks, I3 BioMedical is changing the standard for retailers by integrating their TrioMed Active wound care antimicrobial technology into the Active Touch Antimicrobial Try On socks. By integrating this proven fast acting antimicrobial medical technology into consumer disposable socks, the customer can now try on a new pair of shoes at the retailer with an Active protection never achieved before.
With Active Touch Try On Disposable Socks you can now try shoes at the retailer knowing the TrioMed Active Technology protects you.
At a cost of 0.25¢ per customer trying on shoes, who will spend between 80$ to 149$ per pair of shoes or more when considering ski boots, skates and others, providing the Active Touch Antimicrobial Try On socks is saying to customers: We Care.
I3 Biomedical medical products are found in numerous countries and incorporate the fastest and most efficient third-party laboratory proven antimicrobial killing technology. To further address sources of microbe contamination that can cause infection in humans, the competitively priced and affordable new line of everyday consumer products ACTIVE TOUCH is now offering the Try On Antimicrobial Disposable Socks to retailers.
For more information on the Active Touch products, visit www.activetouch.ca or send an email to [email protected]

About i3 BioMedical Inc: i3 BioMedical is a Canadian medical device corporation, focused on the development and manufacturing of novel antimicrobial products incorporating the TrioMed Active Technology. www.i3biomedical.com
References:

1.Athete's foot-PMC-NCBI: NIH Gov: PMC 2907807 https://www.ncbi.nlm.nih.gov/pmc/articles/PMC2907807/

2.Athlete's Foot-symptoms & Causes: Mayo Clinic syc-20353841 https://www.mayoclinic.org/diseases-conditions/athletes-foot/symptoms-causes/syc-20353841

3.Fungal Nail infection: A never ending Story? Plos Patho,2014Jun 10(6):e1004105 https://journals.plos.org/plospathogens/article?id=10.1371/journal.ppat.1004105

4.Canadian Skin Patient Alliance: Warts (2023) https://canadianskin.ca/23-english/skin-conditions/warts

5.Twelve ways to prevent another nail infection: American Academy of Dermatology Ass. ref Dermatology News March 2016:2-15 https://www.aad.org/public/diseases/a-z/prevent-another-nail-infection

6.Journal of Osteopathic Medicine : jaoa.2018.024 https://pubmed.ncbi.nlm.nih.gov/29379975/
Pierre J Messier
I3 BioMedical Inc.
email us here
Visit us on social media:
Facebook


Originally published at https://www.einpresswire.com/article/639464020/antimicrobial-try-on-disposable-socks-can-help-prevent-infections-when-trying-on-new-shoes