Capture the warmth of marigolds with the Maria-Theresa Reef Collection Limited Edition Marigold 9-10mm Pearl Necklace.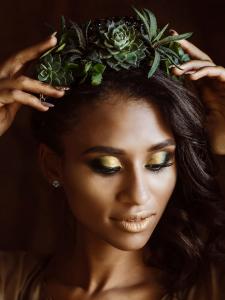 Natural Emerald Round Stud Earrings from Brazil have been created by nature herself.
Inspired by the natural world blending modern design with the beauty and authenticity of genuine pearls, rubies, emeralds, and sapphires.
Our vision for Avani Jewelry is to create a brand that celebrates the beauty of our planet while embracing ethical practices. Our mission is to enable our customers to Look Good and Love the Planet."
— Maria Holmes
MIAMI, FLORIDA, USA, June 26, 2023/EINPresswire.com/ — Avani Jewelry recently announced its official launch as an earth positive brand, offering a captivating collection of handcrafted jewelry and accessories that embody the essence of nature. With a commitment to authenticity, ethical practices, and environmental responsibility, Avani Jewelry aims to provide customers with a unique way to connect with nature and express their individual style.
Avani Jewelry's exceptional range features an array of handcrafted jewelry, meticulously crafted using authentic pearls and natural gemstones, including rubies, emeralds and sapphires. Each piece reflects the splendor of the earth's natural wonders, allowing wearers to embrace their style, beauty, and values.
As a brand, Avani Jewelry takes immense pride in sourcing only completely natural and untreated gemstones. Their dedication to ethical practices ensures that all of their gemstones are 100% conflict-free, enabling customers to wear their creations with a clear conscience. Avani Jewelry believes that jewelry should not only enhance your personal style but also reflect the values of its wearer.
Each gemstone used in Avani Jewerly's designs embodies the essence of the earth and the elemental wonders of nature. Their raw materials are meticulously procured from some of the most enchanting places around the globe, adding a touch of magic to each creation. Avani Jewelry is a farm-direct supplier of pearls, sustainably sourced from the leading pearl farms of the Pacific region. PEARLS, which represent WATER, are cultivated in Australia, Indonesia, French Polynesia, China, Japan, and the Philippines and Abalone is sourced from South Africa and New Zealand. RUBIES symbolize FIRE and are sourced from Thailand and Burma, regions known for their fine quality gemstones and legendary status. EMERALDS embody the EARTH, sourced from the tropical lands of Colombia and Brazil, considered to be some of the most beautiful and pristine forestlands in the world. SAPPHIRES represent the AIR, and are sourced from Burma and Thailand, countries adorned with nature's breathtaking beauty, from immaculate beaches to majestic mountains.
"Our vision for Avani Jewelry is to create a brand that celebrates the beauty of our planet while embracing ethical practices," said Maria Holmes Founder/CEO of Avani Jewelry. "We want our customers to feel a deep connection with nature through our designs and to know that their purchase contributes to positive change. Our mission is to enable our customers to Look Good and Love the Planet."
Beyond crafting exquisite jewelry, Avani Jewelry is committed to supporting reforestation and ocean cleanup efforts. With every purchase, a portion of the proceeds goes towards these initiatives, ensuring that customers not only enjoy stunning jewelry but also actively participate in preserving and protecting our environment.
Avani Jewelry invites customers to explore its captivating collections, each designed with passion and a deep appreciation for nature's boundless beauty. Whether it's a delicate necklace adorned with lustrous pearls or a striking ring showcasing vibrant gemstones, Avani Jewelry offers a piece to suit every style and occasion.
Avani Jewelry aims to establish itself as a leader in the industry by delivering exceptional quality, outstanding customer service, and a deep commitment to sustainability. By creating jewelry that evokes emotions and tells stories, Avani Jewelry encourages wearers to celebrate their individuality and embrace their connection with the natural world.
Media Relations
Avani Jewelry
[email protected]
Visit us on social media:
Facebook
Instagram
Avani Jewelry. Earth. Inspired. Beauty.


Originally published at https://www.einpresswire.com/article/640754047/avani-jewelry-celebrating-earth-s-natural-beauty-through-exquisite-handcrafted-jewelry