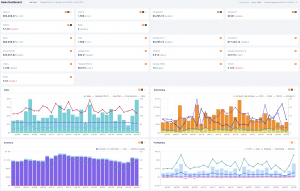 Purvey AI's eCommerce analytics and marketing dashboard is here in time for Prime Day for Amazon Vendor Central, Seller Central and Walmart Marketplace
Our Purvey AI platform provides vendors, brand, agencies and sellers a simple and unified god view of their various Amazon Seller Central, Amazon Vendor Central and Walmart accounts."
— Ryan Craver
NEW YORK CITY, NY, USA, July 11, 2023/EINPresswire.com/ — Purvey AI, the eCommerce analytics leader, today announced a formal launch to the public. Purvey AI has exited a private beta and now can be used globally for the 3 million plus global vendors and sellers on Amazon Vendor Central, Amazon Seller Central, Amazon Advertising and Walmart Marketplace. Purvey AI allows users to access real time analytics including sales, inventory, advertising and profitability. In conjunction with Amazon Prime Day, Purvey AI is providing new accounts a 50% discount on any paid subscription using code PRIME.
Although this is a public launch for Purvey AI, the tool has been a white label tool processing well over $250mm in annual GMV. Purvey AI's integration with Amazon and Walmart will empower agencies, sellers, vendors and brands with capabilities including:
1. God View Dashboard: Simplified view of all channels rolled into a single dashboard by brand.
2. Unified Platform for Analytics & Insights: A unified view of eCommerce businesses, leverage insights to measure the effectiveness of products/campaigns, and identify new opportunities with access to real-time KPIs such as traffic and conversion.
3. Profitability & Settlement Analysis: Simple digestible view of profitability either at the product, brand or account level.
4. Flash Reporting: Daily email report providing your comparable sales by time period.
5. Catalog Management & Reporting: Easy to access reports detailing catalog productivity, listing orphans and ad spend by product.
6. Inventory Management & Reporting: One click reports to outline inventory needs for FBA or WFS based upon sell throughs and sales rankings.
"We're thrilled to formally launch our software that we have used to drive the Commerce Canal business over the years to the public," said Ryan Craver, Purvey AI's CEO. "Our Purvey AI platform provides vendors, brand, agencies and sellers a simple and unified god view of their various Amazon Seller Central, Amazon Vendor Central and Walmart accounts."
To celebrate the public launch of Purvey AI and Prime Day, Purvey AI is providing a 50% discount on all paid subscriptions using code PRIME. Additionally, Purvey AI's partner agency Commerce Canal will provide every new paid subscription with an optional 30 minute audit outlining a one page scorecard. For any questions on this promotion, please feel free to contact Purvey AI via support@purvey.ai.
ABOUT Purvey AI:
Purvey AI is a state-of-the-art analytics and marketing dashboard for eCommerce vendors, sellers, agencies and brands using Amazon Seller Central, Amazon Vendor Central and Walmart Marketplace. Purvey AI provides seamless real-time reporting, categorizing, and analyzing of eCommerce KPIs for sales, advertising, accounting, settlements, and inventory. Punctual and insightful email reports show up in email inboxes daily ensuring eCommerce stakeholders are aware of brand performance along with a unified god view of every marketplace and channel a brand is selling or marketing on.
Ryan Craver
Purvey.ai
+1 917-733-1226
email us here
Visit us on social media:
Facebook
Twitter
LinkedIn
Instagram
YouTube
Other
Purvey AI Teaser


Originally published at https://www.einpresswire.com/article/641828008/ecommerce-analytics-tool-purvey-ai-launches-for-amazon-prime-day-sellers-vendors-agencies-and-brands