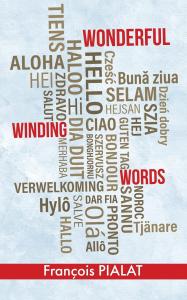 "Wonderful Winding Words" Helps Readers Learn Phrases in Four Languages
FRANCE, July 24, 2023/EINPresswire.com/ — Author, polyglot and world traveler Francois Pialat makes learning languages easier by adding some fun and entertainment to the educational process. With "Wonderful Winding Words: Touring in four languages (Chinese, English, French, German)" readers can improve their proficiency in Chinese, English, French, and German, which will be helpful when traveling abroad or encountering individuals who speak in those languages.
With Pialat's book readers will gain a better understanding of new languages as well as themselves. According to research, people experience emotions differently depending on the language they use. Speaking in a different language results in a different perspective.
In his book, Pialat lets people discover words and expressions that they can use in their daily lives. At the same time, he bridges the gap between East and West, by letting their languages intermingle in readers' minds, broadening their horizons. They will see how their expressions change depending on the countries and cultures they are in, which can result in humorous misunderstandings, intentional puns and japes. By learning more languages, the potential for fun and hilarity increases. Most importantly, readers will find joy in the process of understanding new tongues.
Pialat invites his readers to become playful polyglots and have fun with the language-learning process. They can gain a better understanding of people from different cultures as well as their own native societies in an entertaining way.
About the Author

Francois Pialat studied in Bournemouth, England, Tubingen, and Bochum, Germany. The French author discovers ethnology with the hill tribes of the Golden Triangle, Thailand. His passion for Asia leads him to study Asian languages and civilisations. Passionate with foreign languages and cultures, especially the Far East, he is currently retired. He has been interviewed by Kate Delaney and Suzanne Lynn on a radio show.
Sofia Holmes
Sweetspire Literature Management
+1 765-736-0618
email us here
Visit us on social media:
Facebook
Twitter
LinkedIn
Instagram
YouTube
TikTok
"Wonderful Winding Words" by Francois Pialat


Originally published at https://www.einpresswire.com/article/646095680/francois-pialat-makes-speaking-chinese-english-french-and-german-easier-funnier