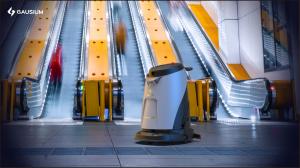 BERLIN, GERMANY, June 28, 2023/EINPresswire.com/ — Gausium, a leading provider of cutting-edge autonomous cleaning solutions, is thrilled to announce that its revolutionary floor scrubbing robot, Scrubber 50 Pro, has been nominated as a finalist for the prestigious 2023 CMS Berlin Purus Innovation Award in the Large Machine category.
The Purus Innovation Award (PIA) is one of the sector's most coveted awards and reflects the great innovative strength of CMS Berlin. The award for innovative performance in the cleaning industry honors products, tools and systems that impress with their high application quality and outstanding overall design. Gausium's Scrubber 50 Pro has earned its place as a finalist for its remarkable advancements in large-scale innovative cleaning technology.
The Gausium Scrubber 50 Pro is a state-of-the-art automated cleaning machine designed to deliver exceptional performance and efficiency in commercial and institutional environments. It has already established itself as a multi-award-winning cleaning solution, receiving prestigious industry accolades over the past year. It is the recipient of the highly esteemed InterClean Amsterdam Innovation Award 2022, recognizing its groundbreaking advancements in cleaning technology. Additionally, Scrubber 50 Pro has been honored with the European Cleaning & Hygiene Award and the INCLEAN Excellence Award, further cementing its position as a leading innovation in the industry.
Equipped with advanced sensors and AI deep learning capabilities, Scrubber 50 Pro optimizes cleaning processes by adapting to the environment and adjusting its settings accordingly. Its intuitive interface and user-friendly controls ensure that operators can effortlessly navigate the machine and achieve exceptional cleaning results. The cleaning robot offers significant advantages over traditional cleaning equipment, such as increased efficiency, reduced resource consumption, and improved sustainability. By harnessing the power of advanced autonomous cleaning technology, Gausium is empowering businesses to enhance their cleaning operations and achieve higher standards of cleanliness and hygiene.
The award finalists were determined by a top-class expert jury after thoroughly examining and reviewing the submitted competition entries according to strict criteria. The winners of the 2023 CMS Berlin Purus Innovation Award will be announced during the award ceremony, which will take place in the Marshall House on the Berlin Exhibition Grounds at the first day of the International Cleaning Trade Fair CMS Berlin 2023.
Gausium remains committed to continuous innovation and delivering smart cleaning solutions that redefine industry standards. The nomination of the Gausium Scrubber 50 Pro as a finalist for the CMS Berlin Purus Innovation Award is a testament to Gausium's pursuit of excellence.

For more information about Gausium and its products, please visit www.gausium.com.
About Gausium:
Gausium is a leading company of AI-powered autonomous cleaning and service robots with more than 4,000 successful deployments in 50 countries and regions. Currently, Gausium's products and services include commercial floor cleaning robots, indoor delivery robots and supplementary accessories like docking stations, cloud platform and application software.
Wilson Dong
Gausium
email us here
Originally published at https://www.einpresswire.com/article/641711669/gausium-scrubber-50-pro-nominated-as-finalist-for-the-2023-cms-berlin-purus-innovation-award