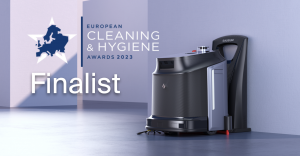 Phantas, a commercial floor cleaning robot from Gausium, has been selected as a finalist for the European Cleaning & Hygiene Awards 2023.
AMSTERDAM, NETHERLANDS, July 27, 2023/EINPresswire.com/ — Gausium, a trailblazing leader in autonomous cleaning solutions, is thrilled to announce that their groundbreaking product, Phantas, has been selected as a finalist for the prestigious European Cleaning & Hygiene Awards in the "Technological Innovation of the Year" category.
The European Cleaning & Hygiene Awards serve as a platform to celebrate and acknowledge the most exceptional and inventive contributions to the cleaning and hygiene industry across Europe. It is worth mentioning that Scrubber 50 Pro, an earlier floor scrubbing robot from Gausium, was the recipient of this award last year.
Building on the success of its predecessor, Phantas is an extraordinary addition to Gausium's comprehensive product portfolio. It is an "all-in-one" innovative autonomous floor cleaning robot that integrates four cleaning modes: scrubbing, vacuuming, sweeping, and mopping. With its cutting-edge AI-powered navigation system, adaptive cleaning algorithms, and high-performance cleaning components, Phantas offers unmatched versatility and efficiency in diverse facility environments.
Michelle Marshall, Editor of European Cleaning Journal and founder of the annual awards said: "We received some incredible entries and it wasn't an easy task building our shortlist, but we feel that the 49 finalists that we've chosen thoroughly deserve their names in lights, in acknowledgment of their contribution to the cleaning and hygiene industry. We look forward to celebrating with our finalists and esteemed guests in Dublin this Autumn."
The European Cleaning & Hygiene Awards ceremony will take place on October 5th at The Round Room at the Mansion House in Dublin, where the winners of various categories will be announced. Gausium eagerly awaits the opportunity to present Phantas to a panel of industry experts, showcasing how this revolutionary robotic cleaning solution can enhance the efficiency and hygiene standards of facilities across Europe.
About Gausium:

Gausium is a leading company of AI-powered autonomous cleaning and service robots with more than 4,000 successful deployments in 50 countries and regions. Currently, Gausium's products and services include commercial floor cleaning robots, indoor delivery robots and supplementary accessories like docking stations, cloud platform and application software.
Wilson Dong
Gausium
+86 130 8392 0883
email us here
Originally published at https://www.einpresswire.com/article/646671696/gausium-s-phantas-named-finalist-for-european-cleaning-hygiene-award-technological-innovation-of-the-year-category