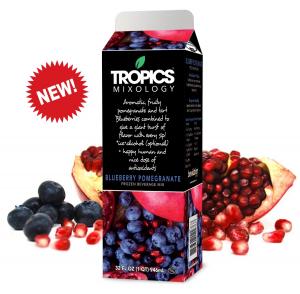 Tropics Blueberry Pomegranate Puree Mixer is crafted from the highest quality, antioxidant-rich pomegranates and blueberries designed to give a burst of flavor to every sip."
— Robert Corlett, Bevolution Group's SVP of Sales & Marketing
CHICAGO, IL, UNITED STATES, June 15, 2023/EINPresswire.com/ — Bevolution Group, one of the nation's most diverse and innovative beverage manufacturers, today announced the launch of Tropics Blueberry Pomegranate Puree, a delicious frozen mixer and the latest addition to its widely successful Tropics Puree line.
Tropics Blueberry Pomegranate Puree Mixer is crafted from the highest quality, antioxidant-rich pomegranates and blueberries designed to give a burst of flavor to every sip. This clean formula frozen puree is the perfect mixer for cocktails, mocktails, smoothies, teas, lemonades and sparklers.
The new frozen puree mixer is great for bars, restaurants, hotels, casinos and any foodservice or hospitality channel that caters to consumers looking for delicious tasting cocktails and mocktails made with the highest quality ingredients.
Tropics Blueberry Pomegranate Puree joins a growing portfolio of 20 frozen Tropics puree mixers that include: Banana, Cherry Berry Rum Runner, Pineapple Pina Colada, Lemon Ice, Mango, Margarita, Mojito, Orange Pineapple, Passion Fruit, Peach, Pina Colada, Pink Guava, Pomegranate, Raspberry, Sour, Strawberry, Watermelon and Wildberry Acai.
The new puree mixer from Tropics allows foodservice channels to continue serving the extraordinary to their customers: clean label; made with real fruit; made with pure cane sugar; with no artificial color, flavors, HFCS and preservatives.
"Whether our foodservice customers are mixing classic cocktails or innovative mocktails and smoothies, our line of frozen puree mixers made with the highest quality ingredients to deliver the most flavor – including our newest flavor Blueberry Pomegranate – will have consumers delighted and coming back for more," said Robert Corlett, Bevolution Group's SVP of Sales & Marketing.
Tropics Blueberry Pomegranate Puree Mixer is available in a 32-ounce frozen carton and sold to foodservice distributors. Learn more: www.tropics-beverages.com. For more information or to request samples, please visit: Connect with Tropics.
ABOUT BEVOLUTION GROUP

Bevolution Group is a leading manufacturer of shelf-stable and frozen foodservice cocktail, mocktail, smoothie and beverage mix products. To help customers keep up with increasing demand and fast-changing beverage trends, Bevolution Group offers a versatile portfolio of innovative, high-quality beverage products and programs. The company also manufactures products customized to meet specific sensory and delivery needs by working closely with its distribution partners, customers and markets. These include restaurants and bars, hotels, healthcare organizations, casinos, education campuses and military facilities across the U.S., Canada, Latin America and the Caribbean. Bevolution Group is headquartered in Chicago with production facilities in Chicago; Frostproof, FL; Huntington Station, NY; and Fullerton, CA. For more information, visit www.bevolutiongroup.com.
ABOUT TROPICS BRAND
Since 1991, Tropics has been serving consumers the extraordinary by offering top shelf foodservice beverage programs through an abundance of frozen puree mixers, shelf-stable mixers, Tiki Tropics mixers, Coco Tropics cream of coconut mixer, Tropics Infusions and Tropics Juices. As part of the Bevolution Group brand family, Tropics has been at the forefront of beverage innovation and inspiration, paving the way through sourcing from the world's best regions, producing frozen to shelf stable, and never adding high-fructose corn syrup. For more information, visit www.tropics-beverages.com.
# # #
Phillip Sontag
Bevolution Group
[email protected]
Visit us on social media:
Facebook
Twitter
LinkedIn


Originally published at https://www.einpresswire.com/article/639559908/get-a-taste-of-the-tropics-this-summer-bevolution-group-launches-tropics-blueberry-pomegranate-puree-mixer