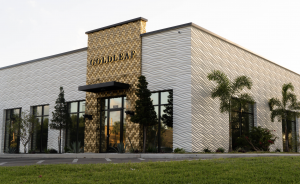 Featuring Large Scale Retail Footprint in Sebring and White Glove Delivery Service Across Florida, Now Inclusive of Palm Beach and Broward Counties
Providing unparalleled service is where we excel. From placing a delivery order to an in-store shopping experience, we are dedicated to the highest quality customer service and care to our patients."
— GOLDLEAF SVP Retail, Michael Tese
TAMPA, FLORIDA, UNITED STATES, June 28, 2023/EINPresswire.com/ — GOLDLDEAF's mission is to be the leading choice of Florida cannabis patients by providing the highest quality cannabis flower, oils, and edibles in the most beautiful retail environments supported by extraordinary customer service. GOLDLEAF is focused on a unique positioning within the ever-growing cannabis market providing premium and luxury products and service at a value. The team of growers are steeped in knowledge, with decades of collective experience. Using sustainable, organic techniques that were honed on the west coast, they carefully tend to their cannabis plants through each step of the process; GOLDLEAF is currently the only cultivator growing organically in Florida. The founders of GOLDLEAF are respected industry experts focused to create something the cannabis market has never seen with the GOLDLEAF Model. This can be experienced at their first retail store in Sebring, or through White Glove delivery, currently offered across 17 central and south Florida counties.
"We are excited to offer our patients a luxury experience while distributing the highest quality medical cannabis for the most affordable price in an ethical way. Our team is more than happy to deliver orders meeting our minimum requirement from our grow facility straight to your doorstep for no extra charge. We currently service 12 counties around central Florida with South Florida coming soon!" – Co Founder, Mark Seid
By implementing a variety of techniques to their climate and light controlled greenhouses and indoor facilities, GOLDLEAF's growers maximize the potential of each particular strain. GOLDLEAF takes pride in their conscious cultivation. They use organic living soil, live microorganisms for beneficial pest control instead of harsh chemicals, and are manatee safe with minimal drain waste. The Conscious component is very important to brand founders, and the persona of the brand. Adds Seid, "we strive to provide access to new varieties of strains to make sure there is something for all of our valued patients." Mark and his team of growers have over three decades of experience and have developed over 300 proprietary genetics.
GOLDLEAF currently offers a delivery service direct from their grow in Mount Dora to patients as well as their new luxury retail store in Sebring. The brand currently services 15 counties in central Florida, from Tampa to Orlando to Jacksonville via their luxury-style White Glove delivery service, with a second delivery hub and processing facility in Pompano now available as of June 2023; the Pompano hub serves the West Coast from Delray Beach to Miami, inclusive of Palm Beach and Broward counties, with Miami-Dade to next launch. Arriving either via Tesla or Lexus Hybrid, a suit and tie donning ambassador delivers the approved order with White Glove service to the customer. A variety of payment methods are available upon delivery and in-store pickup, including all major debit and credit card providers, making Goldleaf one of the first Medical Marijuana Treatment Centers in the state of Florida to accept credit payments. Order options here: Product Offerings
The GOLDLEAF in store experience is second to none from the beauty and luxury feeling of the store to the personalized one-on-one knowledgeable service and the highest quality and safest product availability. GOLDLEAF believes that no detail is too small when it comes to providing 5-star service. and is proud to offer complimentary services to enhance the patient experience. These services include fresh-made fruit-infused water, expertly crafted displays, and a phone concierge service providing personalized recommendations and guidance. They provide personal shopping assistants, a VIP lounge area, and educational resources such as pamphlets on safe consumption practices and the health benefits of cannabis. All these services are designed to create a luxurious and comfortable environment for customers, making the experience of purchasing cannabis as enjoyable and stress-free as possible. Team members are meticulously trained to provide the highest level of service to every patient. Being highly knowledgeable and attentive, our staff strives to ensure that every patient feels seen, heard, and valued with confidence that their unique needs and concerns are thoroughly addressed. Adds Seid, "We believe the atmosphere in which you experience our products is just as important as the products themselves."
GOLDLEAF strives to also deliver on customer service, with a team of delivery coordinators available to answer calls Monday-Sunday from 7am-9pm. Delivery reservation times vary based on the delivery address. Regions offered daily currently include Lake County, Polk County, Seminole County, Sumter County, Sarasota County, Orange County and more, with Palm Beach and Broward Counties newly added as of June 2023 for Friday and Saturday weekend delivery. GOLDLEAF will continue to expand their operations throughout 2023 starting with their latest Sebring retail location currently open, the Pompano delivery hub as of summer 2023 with services to Miami-Dade, Broward and Palm Beach counties, and a soon-to-open North Tampa location by winter.
GOLDLEAF currently offers flower, pre-rolls, solventless concentrates, and solventless vapes. Over the coming months they will continue to expand their product line with additional products and brands including distillate vapes, solventless and distillate gummies, hash coins, and other patient requested product offerings.
Discounts to GOLDLEAF patients are also offered. This includes Daily Deals / First order discount: 25% off / Veterans discount: 22% off / Active-duty military: 15% off / Senior (55+): 10% off / Birthday: 10% off. Also inclusive of a Loyalty and Refer-A-Friend program coming soon.
About GOLDLEAF:
Our focus is on quality over quantity, and it shows at every step. All our pre-rolls are bud rolled, meaning the same beautiful flower that you see available for purchase, is the same beautiful flower that is found in our pre-roll straights. At GOLDLEAF, you know you're getting the absolute best of the best, from our grow to you. By implementing a variety of cultivation techniques in our climate-controlled greenhouse and indoor facilities and greenhouses, our growers maximize the potential of each particular strain. Currently available across 17 counties of central Florida and south Florida, with a large scale delivery range through white glove luxury service. Phone 321-233-9219 and visit online at www.goldleaffl.com
Follow @goldleafflorida on social media.
Ali Lasky
The Influence
+1 760-534-3559
email us here
Visit us on social media:
Instagram
Other


Originally published at https://www.einpresswire.com/article/641840434/goldleaf-brings-its-unparalleled-luxury-at-a-value-model-to-florida-cannabis