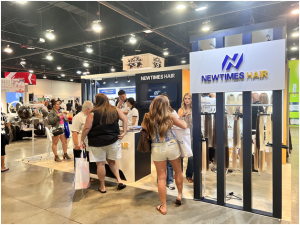 New Times Hair IBS International Beauty Show 2023
New Times Hair with International Beauty Show 2023
Visitors were Enthralled by the Organic Aesthetics of Hair Beauty through the Natural Looks and Feel of Premium Hair Systems, Extensions, Toppers, and Wigs
LAS VEGAS, NEVADA, UNITED STATES, July 1, 2023/EINPresswire.com/ — The IBS International Beauty Show, which took place in Las Vegas on June 24–26, 2023, saw an incredible turnout, with professionals and fans from all over the globe coming together to learn about the latest trends and advances in the beauty industry. New Times Hair stood out among the several exhibitors with its extensive selection of products, including hair systems for men, hair extensions, human hair toppers, and wigs.
Astonishment filled the exhibitor's booth as attendees marveled at the impeccable craftsmanship on display. Each strand boasted a natural appearance that defied belief. Fingertips longed to touch the silky hair, eager to experience the luxurious feel synonymous with New Times Hair.
What stole the show was NTH's various hair systems for men. They garnered significant interest for their meticulous designs that allow their 100% human hair to blend seamlessly with the wearer's natural hair. Everyone could easily pass it off as the real deal. That's how these fabulous hairpieces have ignited a resurgence of confidence in millions of users around the globe.
Amidst their impressive repertoire, New Times Hair has also unveiled a remarkable addition to its lineup: a stunning collection of hair extensions. Fashioned from the finest Remy hair, these exquisite extensions have garnered widespread acclaim for their velvety-smooth texture and for seamlessly harmonizing with the wearer's natural locks. They unlocked boundless style possibilities, adding volume, length, and versatility while maintaining a natural allure.
Human hair toppers and wigs were also in the spotlight, gathering admiration and applause with dazzling styles and colors that left visitors spellbound. Emphasizing comfort, lightweight design, and effortless styling, these toppers and wigs deliver unparalleled authenticity, surpassing all expectations in appearance and tactile delight. Human hair toppers: https://www.newtimeshair.com/womens-hair-systems/human-hair-toppers/
The IBS International Beauty Show 2023 witnessed New Times Hair's resounding success, captivating a diverse audience of hairpiece wearers, wholesalers, and salon owners. Their innovative hair solutions received widespread acclaim, reflecting the company's unwavering commitment to providing high-quality, natural-looking, and luxurious options that cater to the needs of all.
View more: https://www.newtimeshair.com/
New Times Hair
New Times Hair
+86 186 6193 9293
[email protected]
Visit us on social media:
Facebook
Twitter
LinkedIn
Instagram
YouTube
TikTok
Other
New Times Hair's Live Shot at the IBS International Beauty Show!


Originally published at https://www.einpresswire.com/article/642418792/ibs-international-beauty-show-2023-new-times-hair-showcases-innovative-hair-solutions