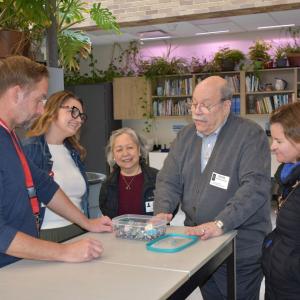 David and Carmencita Schoeneman presenting gemstones to Greg Peteki, Candi Helsel-Wilk, and Mayor Nelson
David Schoeneman with Mayor Michelle Nelson and Candi Helsel-Wilk
Shane's – The Pawn Shop, Inc. Donates Over 10,000 Carats of Gemstones to Homewood- Flossmoor's Fine Arts Department
CHICAGO HEIGHTS, ILLINOIS, UNITED STATES, November 16, 2023 /EINPresswire.com/ — Shane's – The Pawn Shop, Inc. is thrilled to announce a donation of over 10,000 carats of exquisite gemstones to the Fine Arts Department at Homewood-Flossmoor High School. The contribution, organized by David Schoeneman, owner of Shane's and an alumnus of the class of '71, and his wife, Carmencita Schoeneman, hope to leave an indelible mark on the school's art community.
The dazzling assortment of gemstones includes an impressive array of ruby, sapphire, emerald, pearls, jade, topaz, amethyst, garnets, and onyxes. These stunning gems will undoubtedly inspire and enhance the creativity and craftsmanship of aspiring artists and enthusiasts within the Fine Arts Department at Homewood-Flossmoor.
Mayor Michelle Nelson and Homewood-Flossmoor High School's Fine Arts Department Chair, Candi Helsel-Wilk attended the donation presentation. Also in attendance was Greg Petecki, Homewood-Flossmoor art teacher. Petecki expressed his excitement at receiving a donation to foster his students' artistic growth and development.
David and Carmencita Schoeneman, the driving force behind this donation, were moved by the warm reception and expressed their hope that these gemstones would serve as a source of inspiration and innovation for the talented student artists. "This gift enriches the Fine Arts Department and showcases the importance of community involvement and support for our local schools."
###
About Shane's – The Pawn Shop, Inc:

Shane's was started in 1955 by Joseph Z. Schoeneman and his uncle, Joe Schoeneman. Today Shane's is owned and operated by David Schoeneman and his wife Carmencita, and has been named Best Pawnshop of the Year as voted by the Star and Daily South newspapers. Shane's continues to serve its customers with honesty, integrity, and compassion and is committed to supporting the local community and fostering creative endeavors.
David Schoeneman
Shane's – The Pawn Shop, Inc.
+1 708-747-1171
email us here
Originally published at https://www.einpresswire.com/article/668798486/illinois-pawn-shop-donates-gemstones-to-local-high-school-art-department