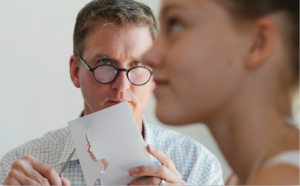 He is Blind in One Eye Which Made Him Take to Silhouetting Naturally
LOS ANGELES, CA, UNITED STATES, June 20, 2023/EINPresswire.com/ — Renowned silhouette artist Karl Johnson has emerged as a true master in his craft, captivating audiences worldwide with his extraordinary talent and meticulous attention to detail. His remarkable journey as a silhouette artist has brought forth a new era of creativity and elegance, earning him accolades as one of the foremost artists in his field.
Karl took to this unusual art form extremely well. Something he attributes, in part, to having vision in only one eye. Karl was born being able to see only from his right eye. Not having binocular vision forces Karl to judge the distance and shape of an object by examining its shadow. This allows Karl to capture an image in shadow in an uncanny way.
Karl's journey as a silhouette artist began when he was a child. His Father was also a Silhouette Artist and Karl would watch him work and then practice cutting. He had a fascination for the art form's simplicity and elegance. He immersed himself in the techniques and traditions of this centuries-old craft, dedicating countless hours to perfecting his skillset. Through his unwavering commitment to excellence, Karl has elevated silhouette art to new heights, pushing boundaries and enchanting audiences with his creations.
His only tools are a pair of old surgeon scissors given to him by his Father and a single sheet of black paper. No computers, software or anything digital — just steady hands and an exacting eye.
His process is to look at his subject Then he cuts out their likeness as he sees it. No sketches or trial runs. "I cut away everything that doesn't look like them" Karl jokes.
With over two decades of experience, Karl Johnson has honed his skills to perfection, showcasing an unrivaled ability to transform simple silhouettes into captivating works of art. Each piece he creates exudes a sense of timeless beauty, as he effortlessly captures the essence and uniqueness of his subjects with astonishing precision.
What distinguishes Karl Johnson as a master artist is his exceptional ability to infuse life into each silhouette he creates. Every delicate stroke of his scissors tells a story, capturing the intricate details and emotions of his subjects. From capturing the elegance of a bride on her wedding day to preserving the innocence of a child's profile, Karl's artistry evokes powerful sentiments and resonates with viewers on a profound level.
Beyond his remarkable studio work, Karl Johnson is a sought-after performer, enchanting audiences with his live silhouette cutting demonstrations. The sheer speed and precision with which he creates masterful silhouettes before a captivated audience is a testament to his unparalleled skill and artistic flair. Guests are left mesmerized, as Karl immortalizes their profiles with a touch of his hand, creating unforgettable keepsakes and memories. Karl has cut live at many private events including events for Hermes, Katie Perry, Reese Witherspoon, Drew Barrymore, Jennifer Lopez and many others.
"Silhouette art has always held a special place in my heart, and I am honored to be able to bring it to life," said Karl Johnson. "Every silhouette I create is an opportunity to celebrate the beauty and uniqueness of each individual. I am humbled by the joy my art brings to people's lives and the connections it fosters between generations."
Karl's customers tend to come back year after year to have their families and even their pets silhouetted as they grow.
Karl lives in Southern California with his wife Lauren and their two children. He travels all over the world creating hand cut silhouettes at both private and public events. He also has private Zoom sessions available by appointment if you would like to have your silhouette cut live and mailed to you. Karl will also be in Colorado June 23rd-28th creating silhouettes in person at local children's stores in the Denver, Boulder & Colorado Springs areas. Appointments are still available! Visit Karl's website calendar to sign up.
For more information about Master Silhouette Artist Karl Johnson and to explore his story and artwork, please visit his website at www.cutarts.com.
Press Contact:

Name: Lauren Johnson

Email: [email protected]

Instagram: @cutarts
Karl Johnson
Cut Arts Inc
email us here
Visit us on social media:
Facebook
Instagram
TikTok
Silhouette Artist Karl Johnson


Originally published at https://www.einpresswire.com/article/640531489/master-silhouette-artist-karl-johnson-a-captivating-journey-of-artistry-and-precision