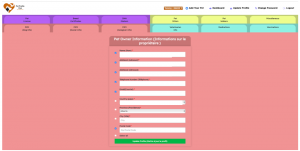 The Pet Profile Hub by LifePet.Care is changing the future of pet information storage for pet owners
Because a pet is more than just an animal; they are family. And in the journey of life, the Pet Profile Hub ensures they're always by your side, wherever the road may lead."
— Robert Greene, CEO
BELLINGHAM, WASHINGTON, USA, November 16, 2023 /EINPresswire.com/ — In a world where pets are not just animals but beloved family members, their safety and well-being are of utmost importance. Pet owners constantly strive to provide the best care possible for their furry or feathered companions. However, managing their health and vital information can be a daunting task, especially when traveling with pets.
"Because a pet is more than just an animal; they are family. And in the journey of life, the Pet Profile Hub ensures they're always by your side, wherever the road may lead", says Robert Greene, CEO of LifePet.Care.
This is where the Pet Profile Hub by LifePet.Care comes into play, revolutionizing pet health management on-the-go.
The Pet Profile Hub: Access Pet Health Records from any smartphone:
The Pet Profile Hub is a complementary (Free) service that can be accessed with the purchase of either 'The Ultimate Pet ID/Travel Tag -Enhanced ($39.99) or The Ultimate Pet ID/Travel Tag -DNA ($99.99).' Alternatively, it's available (without purchasing a tag) through a $35.99 annual subscription. This online hub acts as a digital repository for essential information, offering convenience and peace of mind to pet owners.
How it Works:

Seamless Integration:

With the purchase of 'The Ultimate Pet Tag,' the tag allows access to the Pet Profile Hub at no additional cost. The two systems are seamlessly integrated to ensure a smooth experience for pet owners.
Detailed Pet Profiles:

The Pet Profile Hub allows owners to create detailed profiles for their pets. It can include crucial information such as medical history, allergies, and dietary preferences. But that's not all. It goes further to accommodate additional pet-related data:

a) Pet License: Upload and store any pet's license information securely in the hub, ensuring compliance with local regulations.

b) Pet Sitters/Dog Walker Information: Easily add and update the contact information of a trusted pet sitter or dog walker. This feature ensures that those responsible for a pet's well-being have the necessary details at their fingertips.

c) Breeder Information: Maintain records of the pet breeder information for pedigree or historical reference. This is especially valuable for pet owners with purebred animals. Breed certificates can be uploaded into the pet profile hub.
Accessible Anytime, Anywhere:

The beauty of the Pet Profile Hub lies in its accessibility. The pet profile information can be viewed from anywhere, at any time, simply by logging into the pet profile account on any smartphone or internet-enabled device.

Emergency Situations:

Imagine traveling with a pet, and they suddenly fall ill. In such a situation, having their medical history, allergies, and vet contacts immediately can make all the difference. This information can be shared with a local veterinarian, ensuring all pets receive the best care promptly.

Annual Subscription Option: For pet owners who want to enjoy the benefits of the Pet Profile Hub without purchasing a pet ID/Travel tag, the annual subscription offers an affordable way to do so. At just $35.99 per year, it's a small price to pay for the peace of mind it provides.
Real-Life Scenarios: How the Pet Profile Hub Makes a Difference

To illustrate the true value of the Pet Profile Hub, here are a few real-life scenarios:

Scenario 1: Traveling with a Pet

Imagine a cross-country road trip with a pet. While exploring a new city, the animal suddenly exhibits signs of distress. Simply access the Pet Profile Hub and share the pet's medical history and allergies with the local area vet. This quick access to crucial information assures prompt and accurate treatment, preventing a potentially life-threatening situation.

Scenario 2: Lost Pet Tag

Pets are known to be curious and sometimes escape from their collars. If a pet's tag goes missing, owners may worry about their safety. Fortunately, the Pet Profile Hub has everything covered. With the Ultimate Pet ID/Travel Tag – DNA, the DNA markers are stored on the pet profile hub to be used to compare the DNA as proof if a pet is found.

Scenario 3: Pet Sitter or Dog Walker

In situations where pets are in the care of a pet sitter or a friend, pet owners can grant them access to the pet's profile on the Pet Profile Hub. This ensures that the caregiver has all the necessary information to provide the best care, from feeding preferences to any ongoing medical treatments.

The Pet Profile Hub is not just a product; it's a game-changer for the future of pet health management. It offers pet owners a comprehensive, accessible, and convenient solution to ensure their beloved pets receive the best care, no matter where life takes them.

So, whether it's a new pet parent or a seasoned pet owner, consider investing in this innovative solution to safeguard any pet's health and well-being, even when traveling.
John Weger
LifePet.Care
+1 866-573-1777
[email protected]
Visit us on social media:
Facebook
YouTube
TikTok
The Pet Profile Hub by LifePet.Care
Originally published at https://www.einpresswire.com/article/668230443/pet-health-how-the-launch-of-petprofilehub-com-will-be-a-game-changer-for-pet-owners