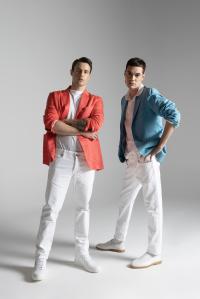 Italian luxury fashion powerhouse introduces its one of a kind platform – IsuiT
NAPLES, CAMPANIA , ITALY, July 14, 2023/EINPresswire.com/ — Every notable success story starts with a dream, a project, a goal, and the path to realization often involves a journey of growth. This can be a gradual process, but occasionally, it demands swift and assertive action. Such is the case for IsuiT, a trailblazer in the world of luxury goods and Italian high fashion, more specifically Neapolitan, ever since its inception in 2014 by Porcamo S.r.l.
IsuiT is the visionary idea of two distinct yet complementary entrepreneurs: Piergiuseppe Castiello and Nicola Abategiovanni. Piergiuseppe Castiello, CEO of Porcamo S.r.l., is an entrepreneur known for his eclectic and intuitive approach. He is consistently in search of innovative solutions for IsuiT's users. His mission is to enhance the shopping experience, making it more efficient, user-friendly, and futuristic. As a seasoned globetrotter, Castiello consistently gathers fresh ideas from his extensive travels, driving the growth of our innovative platform.
Nicola Abategiovanni, COO of Porcamo S.r.l., is an experienced and empathetic entrepreneur with a rational approach. His strength lies in the wealth of experience he has gained over four decades in the field of luxury clothing sales. His vast experience and calm demeanor have helped him forge strong and enduring relationships with the world's leading brands, making the shopping experience on IsuiT truly unique.
The distinguishing factor of IsuiT as a global e-commerce platform lies in its exclusive selection of luxury brands. IsuiT caters to the discerning tastes of high fashion enthusiasts, offering renowned brands like Kiton, Cesare Attolini, Marco Pescarolo, Kired, KNT, Boss, Isaia, Santoni, Tramarossa, Barba, Fioroni, Brunello Cucinelli, Gran Sasso, Borrelli, among others.
Kiton holds a special place in the portfolio of Porcamo S.r.l. and hence, IsuiT. This Neapolitan brand, founded in the 1960s by the unforgettable Ciro Paone, has become a worldwide high-fashion staple due to its refined materials, immense craftsmanship, and timeless designs. Kiton is a favorite among many globally influential individuals. For instance, Facebook founder Mark Zuckerberg, English royals, and Arab emirs are all known to have a significant penchant for Kiton.
Porcamo S.r.l. takes pride in its established partnership with Kiton, one of the world's most acclaimed brands. Thanks to this collaboration, IsuiT offers easy access to the best of Kiton's products with just a click.
IsuiT's growth over the years has been remarkable. Porcamo S.r.l. has carved a niche for itself in the luxury market, earning numerous prestigious accolades. With a customer base of over 15,000 worldwide, IsuiT was recognized by "Il Sole 24 Ore" in 2019 as one of the 400 Italian companies that achieved the highest revenue growth between 2014 and 2017. This recognition was repeated in 2020 for the period from 2015 to 2018.
The accolades extend beyond Italy. The esteemed Financial Times included Porcamo S.r.l. in its annual FT1000 ranking, a list that acknowledges the top 1000 companies across 31 European countries that showed the highest growth rate between 2014 and 2017. The company received this honor again the following year for the growth achieved between 2015 and 2018.
These impressive figures place IsuiT in a prestigious position in the online sales sector for luxury products and Neapolitan high tailoring. With continually growing revenue, Porcamo S.r.l. aims to expand its reach, striving to cater to luxury and Neapolitan tailoring enthusiasts across the globe, promising a seamless, swift, and memorable shopping experience.
Pier Giuseppe
Porcamo S.r.l.
+39 081 811 1648
email us here
Visit us on social media:
Facebook
Instagram
Other


Originally published at https://www.einpresswire.com/article/644353653/porcamo-s-r-l-unveils-its-innovative-platform-isuit