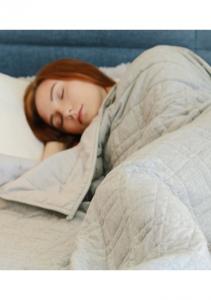 Electromagnetic radiation protection products for insomnia
EMF Blocking Kids Blanket
Unveiling the Marvels of EMF Protection Blankets: Shielding You from the Modern Age's Silent Threat.
What is right is not always popular and what is popular is not always right."
— Einstein
VANCOUVER, BRITISH COLUMBIA, CANADA, November 16, 2023 /EINPresswire.com/ — Surrey, BC – November 2023 – SleepGift Brand, a leading pioneer in electromagnetic fields (EMF) protection technology in Canada, announced its new line of ground breaking products. Initiated to raise awareness about the health risks associated with EMF exposure and its detrimental impact on sleep patterns, SleepGift has developed EMF shielding products especially to preserve sleep quality and overall mental well-being.
SleepGift brand was created by an extraordinary grandmother who is a highly regarded medical doctor, a former educator at a university with 25 published scientific articles. Motivated by the sleep issues plaguing her own family, she began an in-depth investigation to find the underlying reason. Her finding of the disturbing effect of electromagnetic radiation from cell phones, wireless 5G technologies, electric vehicles, and smart gadgets, on sleep and mental health led to a whole new journey for her.
She is determined to increase the awareness of EMF health risks due to extensive usage of wireless technologies. She refers many scientific studies showing how the wireless radiation from modern technologic devices can wreak havoc on sleep, mental health and overall well-being. In a quest for a remedy, she crafted the first few blankets capable of blocking EMF signals for her family. The impressive results inspired her to make this unique discovery available to the broader public, thereby founding the SleepGift Brand.
Engineered to intercept over 99% of harmful EMF radiation, SleepGift's new line of blankets and garments offers users enhanced sleep and better mental and physical well-being. SleepGift partnered with renowned scientists and experts from Ontario Tech University to verify the products' effectiveness. Extensive testing validated that SleepGift blanket's silver infused fabric provides high level protection, reducing EMF exposure by over 99% and safeguarding consumers from potential health risks. There is also an ongoing clinical study on efficacy of Sleepgift weighted blankets on sleep quality and heart health.
SleepGift's meticulously crafted blankets and garments not only offer effective protection against harmful EMF radiation but also provide users with a more restful sleep experience leading to improved mental and physical well-being. Specifically designed weighted blankets can relieve symptoms of sleep deprivation, poor quality sleep and insomnia by blocking EMF signals and providing health booster far infrared energy from the natural minerals used as the filling material. The nano-size silver particles in SleepGift's blankets and clothing absorb wide range of EMF signals and alleviate the non-specific symptoms commonly attributed to constant EMF exposure. These products can also be used for preventive measures from non-stop and exponentially increasing EMF's long term health risks. T-shirts,hats and boxers are designed to protect the most sensitive organs against to chronic wireless signal exposure.
About SleepGift Brand:

SleepGift is an innovative company dedicated to improving sleep quality and promoting mental well-being through its advanced electromagnetic field (EMF) protection products. The company is founded by a renowned medical doctor, author, and former university educator whose dedication is to increase the awareness of the adverse effects of EMF radiation on sleep and general well-being especially on young generations.

For more information, visit https://sleepgift.ca
Tina Ureten
Body Benefit Enterprises Inc.
+1 905-220-4527
email us here
Visit us on social media:
Facebook
LinkedIn
Instagram
YouTube
TikTok
SleepGift EMF RF Radiation Proof Shielding Blankets and Clothings for Children and Adults


Originally published at https://www.einpresswire.com/article/666957555/sleepgift-launches-emf-blocking-products-for-enhanced-sleep-and-well-being