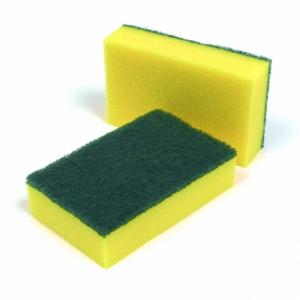 BROOKLYN, NEW YORK, USA, July 13, 2023/EINPresswire.com/ — According to IMARC Group's latest research report, titled "Sponge and Scouring Pads Market: Global Industry Trends, Share, Size, Growth, Opportunity and Forecast 2023-2028," offers a comprehensive analysis of the industry, which comprises insights into the market. The report also includes competitor and regional analysis, and contemporary advancements in the global market. The global sponge and scouring pads market size reached US$ 5.3 Billion in 2022. Looking forward, IMARC Group expects the market to reach US$ 6.3 Billion by 2028, exhibiting a growth rate (CAGR) of 3.0% during 2023-2028.
Get Sample Copy of Report at – https://www.imarcgroup.com/sponge-scouring-pads-market/requestsample
Sponge and Scouring Pads Market Overview:
Sponge and scouring pads are commonly used cleaning tools made from natural or synthetic materials, that are designed to remove dirt and grime. Sponges are soft and porous and is typically made of cellulose or foam rubber, while scouring pads are typically made from abrasive materials like nylon, stainless steel, or natural fibers. designed to remove tough stains, grime, and baked-on residues. Sponges work by absorbing liquids and trapping particles within their porous structure and scouring pads work by using their abrasive surface to physically scrub away stubborn dirt and stains. As a result, they are extensively used for general cleaning tasks as well as heavy-duty cleaning tasks, in both residential and commercial applications.
Explore the Full Report with Charts, Table of Contents, and List of Figures: https://www.imarcgroup.com/sponge-scouring-pads-market
Sponge and Scouring Pads Market Growth:
The global market is primarily driven by the augmenting demand from the cleaning industry. This can be attributed to the considerable increase regarding cleanliness and hygiene among the masses, particularly after the outbreak of the COVID-19 pandemic. In line with this, continual product innovations such as value-adding variants with improved cleaning capabilities, durability, and ergonomic designs as well as the use of advanced materials like microfiber is fueling the market. Moreover, the growing emphasis on sustainable and eco-friendly products is propelling the demand for sponge and scouring pads made from natural or recyclable materials. Some of the other factors contributing to the market include easy product availability across online and offline organized retail channels, inflating disposable income levels, and rapid urbanization.
Key Market Segmentation:
Competitive Landscape with Key Players:
• 3M Company
• Amway Corp.
• Armaly Sponge Company Inc.
• Bio90 Manufacturing Canada Inc.
• Corazzi Fibre S.r.l.
• Impact Products LLC
• Kiwi Scourers Limited
• Lola Products
• Rozenbal Ibérica
• The Clorox Company
• The Crown Choice (The Procter & Gamble Company)
• Weiman Products LLC
Type Insights:
• Sponges
• Sponge Scrubbers
• Hand Pads
Product Type Insights:
• Light Duty
• Medium Duty
• Heavy Duty
• Extra Heavy Duty
Category Insights:
• Reusable
• Disposable
Material Type Insights:
• Steel
• Polymer
Sales Channel Insights:
• Wholesalers/Distributors
• Modern Trade
• Convenience Stores
• Departmental Stores
• Specialty Stores
• Online Stores
• Others
End Use Insights:
• Household
• Commercial
Breakup by Region:
• North America (United States, Canada)
• Asia Pacific (China, Japan, India, Australia, Indonesia, Korea, Others)
• Europe (Germany, France, United Kingdom, Italy, Spain, Others)
• Latin America (Brazil, Mexico, Others)
• Middle East and Africa (United Arab Emirates, Saudi Arabia, Qatar, Iraq, Other)
Key Highlights of the Report:
• Market Performance
• Market Outlook
• Porter's Five Forces Analysis
• Market Drivers and Success Factors
• SWOT Analysis
• Value Chain
• Comprehensive Mapping of the Competitive Landscape
Note: If you need specific information that is not currently within the scope of the report, we can provide it to you as a part of the customization.
Browse More Latest Report Reports:
• Transcatheter Aortic Valve Implantation Market Report 2023
• Non-Steroidal Anti-Inflammatory Drugs Market Report 2023
• https://www.imarcgroup.com/enterprise-content-management-software-market
• https://www.imarcgroup.com/blood-glucose-test-strips-market
• https://www.imarcgroup.com/transplant-diagnostics-market
Who we are:
IMARC Group is a leading market research company that offers management strategy and market research worldwide. We partner with clients in all sectors and regions to identify their highest-value opportunities, address their most critical challenges, and transform their businesses.
IMARC's information products include major market, scientific, economic and technological developments for business leaders in pharmaceutical, industrial, and high technology organizations. Market forecasts and industry analysis for biotechnology, advanced materials, pharmaceuticals, food and beverage, travel and tourism, nanotechnology and novel processing methods are at the top of the company's expertise.
Our offerings include comprehensive market intelligence in the form of research reports, production cost reports, feasibility studies, and consulting services. Our team, which includes experienced researchers and analysts from various industries, is dedicated to providing high-quality data and insights to our clientele, ranging from small and medium businesses to Fortune 1000 corporations.
Contact us:
IMARC Group
134 N 4th St. Brooklyn, NY 11249, USA
Email: [email protected]
Tel No:(D) +91 120 433 0800
Americas:- +1 631 791 1145 | Africa and Europe :- +44-702-409-7331 | Asia: +91-120-433-0800, +91-120-433-0800
Elena Anderson
IMARC Services Private Limited
+1 631-791-1145
email us here
Originally published at https://www.einpresswire.com/article/644334842/sponge-and-scouring-pads-market-size-is-projected-to-reach-us-6-3-billion-by-2028-cagr-of-3