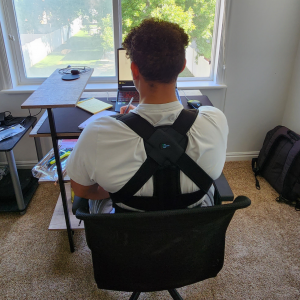 The brand is also one of the first early adopters of the TikTok Shop platform.
LOS ANGELES, CALIFORNIA, UNITED STATES, July 13, 2023/EINPresswire.com/ — Cayatch, a leading American DTC brand dedicated to empowering better posture and well-being, is proud to announce the release of their revolutionary product, the Cayatch Posture Corrector. This innovative solution is set to transform the lives of individuals suffering from poor posture, providing them with instant relief and long-term benefits.
In today's technology-driven world, where we spend increasing amounts of time hunched over computers and smart devices, maintaining good posture has become more crucial than ever. Cayatch's ergonomic back brace posture correctors are specially designed to address this issue effectively. They reinforce and remind users to maintain a more upright posture, reducing stress on the spine, shoulders, and surrounding muscles. Whether standing, sitting, or walking, the Cayatch Posture Corrector pulls shoulders and spine into proper alignment, helping users develop healthier posture habits.
The Cayatch Posture Corrector stands out from competitors in the industry for several reasons. In the fourth quarter of 2022, Cayatch's posture corrector products were approved for FSA, HSA, and HRA reimbursement, making them tax-deductible medical expenses under the current IRS tax law. No prescription is required, ensuring accessibility for all individuals seeking posture correction solutions.
Additionally, Cayatch has expanded its reach by opening a new branch in Vietnam in January 2023. This strategic move allows Cayatch to introduce its products into the hospital and pharmacy networks, establishing the brand as the first American presence in the posture correction industry in Vietnam.
Furthermore, Cayatch has embraced the TikTok Shop platform, becoming one of the early adopters in the USA. The brand has achieved significant success within the TikTok Shop Platform, further solidifying its position as an industry leader.
"We believe that wearing a posture corrector for just 30 minutes a day can change a lifetime of bad posture," says Mai Luu, founder of Cayatch. "Our posture correctors are designed to fit American proportions perfectly – while remaining affordable. Furthermore, we are committed to customer satisfaction, which is evident through our FSA/HSA/HRA eligibility, providing an additional benefit to users."
Cayatch Posture Corrector products are available on the official website www.cayatch.com, as well as on popular e-commerce platforms such as Amazon and TikTok Shop.
About the Company
Cayatch is the brainchild of Mai Luu, a former accountant who experienced the adverse effects of prolonged sitting and slouching firsthand. Frustrated by the lack of effective solutions in the market, she developed her own posture corrector designs that provided the perfect solution for her needs. In 2021, during the height of the COVID-19 pandemic when many individuals were working from home and experiencing limited physical activity, Cayatch was launched to offer a reliable and effective solution to improve posture health and alleviate slouching-related pain.
Cayatch is one of the e-commerce brands under the umbrella of White Mountain LLC, a brand management company.
Emily Lauren
Cayatch
[email protected]
Originally published at https://www.einpresswire.com/article/644344498/cayatch-the-ultimate-solution-for-posture-correction-introduces-innovative-posture-corrector