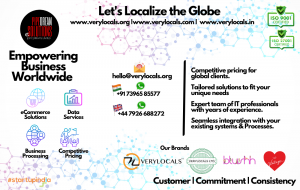 Verylocals: Assisting Businesses and Enhancing Communities with High-Quality Services
Let's Localize the Globe together"
— PRAVEEN PANDEY
VIJAYAWADA, ANDHRA PRADESH, INDIA, June 26, 2023/EINPresswire.com/ — Verylocals: Empowering Businesses and Enriching Communities with Unparalleled Services
Introduction:

In the bustling digital landscape, businesses require reliable partners to handle their data management and e-commerce needs efficiently. Verylocals, an India-based company, has emerged as a trusted name in the industry, providing exceptional data services and comprehensive e-commerce solutions. With its strong dedication to providing quality services, Verylocals has made significant contributions to both businesses and the community, fostering growth and empowerment. This editorial article explores the diverse range of services offered by Verylocals and emphasizes its positive impact on businesses and the community.
Data Services: Enhancing Efficiency and Insights:

Verylocals boasts a comprehensive suite of data services, catering to the diverse needs of businesses. From data conversion to data entry and enrichment, their expert team ensures accurate and efficient handling of data. Data conversion, a complex and time-consuming task, is flawlessly executed by Verylocals, allowing businesses to seamlessly transition between different formats. Furthermore, their data entry services guarantee error-free data input, freeing up valuable time and resources for businesses to focus on core operations.
Where Verylocals truly excels is in data enrichment. By analyzing and enhancing existing data, they empower businesses with valuable insights that can inform critical decision-making processes. This enriched data acts as a catalyst for growth, enabling businesses to identify market trends, consumer preferences, and emerging opportunities. Verylocals' expertise in data services has earned them a reputation for reliability and accuracy, becoming an indispensable asset for businesses striving for success in the digital age.
E-commerce Solutions: Unlocking Online Potential:

With the explosive growth of e-commerce, businesses need agile and comprehensive solutions to establish and expand their online presence. Verylocals offers a wide range of e-commerce services, providing end-to-end support for businesses to thrive in the competitive digital landscape.
Setting up an online store can be a complex task, but Verylocals streamlines the process, providing guidance to businesses at every step and ensuring a straightforward and trouble-free launch. Their expertise in product upload and content management enables businesses to showcase their offerings effectively, capturing the attention of potential customers. By leveraging engaging and informative content, Verylocals helps businesses stand out, creating a compelling brand presence that resonates with their target audience.
Competitive pricing is paramount in the e-commerce arena, and Verylocals assists businesses in formulating effective pricing strategies. By combining market insights and business objectives, they help businesses strike the right balance between profitability and competitiveness, maximizing their revenue potential.
Supporting the Community: Empowerment and Growth:

Beyond its commitment to providing top-notch services, Verylocals actively contributes to the growth and empowerment of the community it operates in. Through various initiatives, the company strives to make a positive impact and foster social change.
One of the notable community-driven projects initiated by Verylocals is their partnership with local educational institutions. By collaborating with schools and colleges, they provide educational resources and opportunities to students, equipping them with valuable skills and knowledge required in the digital era. This commitment to education ensures a brighter future for the community by nurturing young talents and fostering a culture of learning and innovation.
Additionally, Verylocals promotes entrepreneurship and economic empowerment by supporting local small-scale businesses and startups. By offering consultancy services, mentorship programs, and affordable e-commerce solutions, they enable budding entrepreneurs to establish and expand their ventures. This holistic approach to community development contributes to the economic growth and self-sustainability of the region.
Conclusion:

Verylocals stands as a shining example of a company that not only excels in providing exceptional services but also goes above and beyond to support and uplift the community it serves. Through their reliable data services and comprehensive e-commerce solutions, Verylocals empowers businesses, enabling them to thrive in the digital landscape. Simultaneously, their community-driven initiatives promote education, entrepreneurship, and economic empowerment, fostering growth and positive change. As businesses continue to evolve and communities strive for progress, Verylocals remains at the forefront, empowering organizations and enriching lives with its unparalleled services.
PRAVEEN PANDEY
VERYLOCALS
[email protected]
Visit us on social media:
Facebook
Twitter
LinkedIn
Instagram


Originally published at https://www.einpresswire.com/article/639846785/verylocals-assisting-businesses-and-enhancing-communities-with-high-quality-services