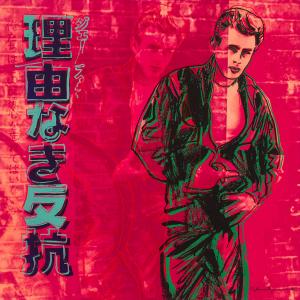 Andy Warhol (1928-1987) American, "REBEL WITHOUT A CAUSE (JAMES DEAN)", FROM "ADS," 1985 [F&S II. 355], screenprint in colours on Lenox museum board, the full sheet signed and numbered 181/190, sheet 96.5 cm x 96.5 cm. Estimate $100,000-$150,000 CAD
Friedel Dzubas (1915-1994) American, "PHIRRUSS", 1985, acrylic on canvas, signed, titled and dated verso, 101.6 x 101.6 cm. Estimate $60,000-$80,000 CAD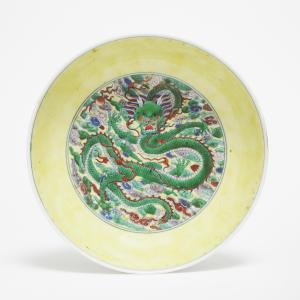 A Rare Yellow-Ground Doucai 'Dragon' Dish, Kangxi Mark and of the Period (1662-1722) 清 康熙 罕见黄地斗彩云龙戏珠纹盘 双圈六字楷书款, diameter 21.5 cm. Estimate $10,000-$20,000 CAD
Asian Art, International Editions, and Modern, Post-War & Contemporary Art Auctions Open for Bidding June 24
TORONTO, ONTARIO, CANADA, June 26, 2023/EINPresswire.com/ — Waddington's summer auction season starts up with three exciting International art auctions. As the weather heats up, so will the bidding in our Asian Art auction, Editions auction, and Modern, Post-War & Contemporary Art auction.
Online from Saturday, June 24 to Thursday, June 29, these three Toronto-based auctions feature items to entice both novice and experienced collectors.
ASIAN ART
An incredibly international auction, Waddington's sources works from impeccable collections, catering to our discerning global buyers. Our specialists take great care to research provenance and comparable lots, while providing detailed condition reports and photography so our clients can bid with ease from around the world.
This major Asian Art auction features a Kangxi mark and a period 'dragon' dish from the A.W. Bahr collection, a Qianlong mark and period gilt bronze Chakrasamvara figure, Guangxu and Tongzhi mark and period bowls, and paintings by Fan Zeng (b. 1938) and He Baili (b. 1945). Works sourced from important private collections include Ming and Qing porcelain, jade and cloisonné wares, Longquan celadon, imperial embroideries, scholar objects, Himalayan and South Asian sculpture, and Japanese works of art.
EDITIONS
Led by Andy Warhol's "Rebel Without a Cause (James Dean)," from his 1985 "Ads" portfolio, this auction includes work by major international artists including David Hockney, Kaws, Yayoi Kusama, Sam Francis, Zhang Xiaogang, Joan Miró, Salvador Dalí, Pablo Picasso and Georges Braque.
Representing Canadian artists as well, auction highlights include Christopher Pratt's "Labrador Current," and Kenojuak Ashevak's "Summer Owl," alongside work by Takao Tanabe, Rita Letendre, Jean Paul Riopelle, and David Lloyd Blackwood. Don't miss out on four works by Alex Katz, including the sensational seven foot long "White Roses," which perfectly encapsulates the summer season.
MODERN, POST-WAR AND CONTEMPORARY ART
This eclectic auction is led by "Phirrus," a 1985 painting by the German/American artist Friedel Dzubas, who is considered to be a pioneer of Colour Field painting, alongside Barnett Newman, Clyfford Still, and Mark Rothko.
Other highlights include a 1912 painting by Piet van der Hem, "Two Ladies in a Café," and an ensemble of Anatoly Timofeevich Zverev drawings and paintings. Other notable names include Sabin Bălașa, Achille-Émile Othon Friesz, Constant Artz, Alois Arnegger, Cecil Kennedy, Antoine Blanchard, Artur Vladimirovich Fonvizin, and Helmut Newton.
PREVIEW THESE AUCTIONS IN PERSON:
Waddington's, 275 King Street East, Toronto, M5A 1K2
Monday, June 26 from 10:00 am to 5:00 pm

Tuesday, June 27 from 10:00 am to 5:00 pm

Or by appointment.
Please note individual closing times of each lot noted on our website.
Bid or browse on our website and visit our News Section to read more about lots offered in these auctions. Contact us at 416-504-9100 or 1-877-504-5700 or by email at [email protected].
ABOUT WADDINGTON'S:
Waddington's is Canada's Auction & Appraisal Company, providing expert advice to Canadian and international clients for over 173 years.
In addition to our core departments, which include Asian, Canadian, International, First Nations and Inuit Art, Decorative Arts and Design, Fine Jewellery, and Fine Wine and Spirits – Waddington's is also renowned for our ability to find or create markets for unique collections and estates such as the contents of Maple Leaf Gardens, The William Jamieson Estate Collection, the FXSmith Studio Collection, the Estate of Richard LaPrairie, and many others.
Waddington's also assists major corporations and public institutions across Canada to understand the value of their corporate art collections and assist with managing or downsizing their collection assets.
Our team of experienced specialists looks forward to assisting you with virtually everything you may want to sell, buy or have appraised, whether a single item, an estate or corporate collection.
Tess McLean
Waddington's Auctioneers
+1 416-504-9100
[email protected]
Visit us on social media:
Instagram
Facebook
Twitter
YouTube
LinkedIn


Originally published at https://www.einpresswire.com/article/641275854/waddington-s-presents-three-exceptional-international-art-auctions-online-june-24-29