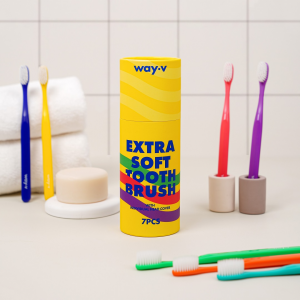 WAY.V's 'Extra Soft Toothbrush' offers a gentle yet effective cleaning experience.
SEOUL, REPUBLIC OF KOREA, June 22, 2023/EINPresswire.com/ — Discover a world of vibrant and colorful oral care with WAY.V, the brand that knows how to infuse everyday routines with a drop of excitement. Introducing the 'Extra Soft Toothbrush,' WAY.V's latest innovation promises to revolutionize the dental hygiene experience for individuals worldwide.
With a deep understanding of the need for a toothbrush that caters to sensitive gums and teeth, WAY.V has created a masterpiece in oral care. The 'Extra Soft Toothbrush' boasts an exceptional design, featuring microfine technology with two-level bristles for a gentle yet effective cleaning experience. Its long tapered bristles effortlessly reach those tricky areas, while the shorter bristles remove impeccable plaque, promoting gum health and leaving a refreshing clean.
WAY.V places a strong emphasis on hygiene, and the FDA-registered 'Extra Soft Toothbrush' is no exception. The seven toothbrushes come with individual head covers, ensuring each brush remains pristine and ready for use. Plus, the colorful container offers a convenient and hygienic storage solution, making it a breeze to maintain a healthy brushing routine.
Customers are raving about the 'Extra Soft Toothbrush,' sharing their positive experiences and glowing reviews. "I decided to try these, and I'm thrilled that I did. The toothbrushes come beautifully packed in a container, keeping them clean and fresh until I'm ready to use them. When I opened the package, I was delighted by the array of handle colors and the protective covers for the brush heads. The bristles are soft enough to provide a gentle brushing experience while still effectively cleaning. I wholeheartedly recommend these toothbrushes and will purchase them again."
The 'Extra Soft Toothbrush' package includes seven vibrant toothbrushes, each accompanied by its individual head cover. The reusable container adds convenience to the oral care routine. The toothbrush is designed to be compact and lightweight, meticulously crafted with top-notch materials, and environmentally friendly. Rest assured, the 'Extra Soft Toothbrush' is FDA-registered, ensuring its safety and reliability.
Priced at just $16.99, the 'Extra Soft Toothbrush' is an affordable investment in one's oral health and bathroom aesthetics. Discover the perfect fusion of style, comfort, and functionality that WAY.V has brought to the world of oral care.
For further details about WAY.V and the 'Extra Soft Toothbrush,' please visit their official website at https://wayv-on.com
About WAY.V:

WAY.V is a pioneering brand dedicated to elevating personal care experiences. With a relentless focus on color, function, and design, WAY.V aims to deliver products that make a significant impact on daily routines. Their mission is to give their customers a drop of color in their space, and the 'Extra Soft Toothbrush' is just the beginning of their journey towards transforming ordinary moments into extraordinary ones.
Zach Miller
WAY.V
[email protected]


Originally published at https://www.einpresswire.com/article/640854720/way-v-unveils-the-extra-soft-toothbrush-with-micro-fine-tech-and-two-level-bristles