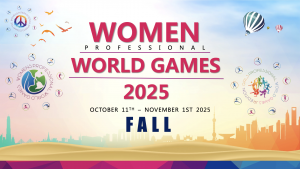 WSE HOLDINGS COMPANY REVEALS THEIR WOMENS SPORTS ASSETS AND IS THE LARGEST WOMEN'S SPORTS AND ENTERTAINMENT COMPANY TO ADVANCE WOMEN'S PROFESSIONAL SPORTS
The CEO stated that the corporation was developed to boost women's sports and entertainment, and to provide female sports leagues and athletes with additional advancement opportunities""
— Stacie DeBerry
LAS VEGAS , NEVADA, USA, June 20, 2023/EINPresswire.com/ — A group of accomplished female sports enthusiasts have come together to launch a women's sports and entertainment corporation that could potentially be the most significant in the industry's history. The team comprises a variety of talented individuals, including an Emmy Award-winning sports film director, a two-time World Champion, and three-time All-Star WNBA player, a female firefighter, an independent music and entertainment executive from New York, a sports apparel and manufacturing company, and a host of Entrepreneurs.
This group of experienced individuals has created an enterprise that includes a women's professional world games, Femtitude – a sporting apparel manufacturer for licensed women sports apparel, women's sports memorabilia that includes NFTs, and offers a variety of additional possibilities, the Women's Sports and Entertainment Network (WSEN), the Women's Finance and Money Card, the Women's Sports and Entertainment Awards, a Girl and Women's sports academy, and the upcoming release of Curve Women's Sports Drink.
Stacie Deberry, the CEO who currently leads the group, stated that the corporation was developed to boost women's sports and entertainment. Deberry clarified the company's assets, which are poised to provide female sports leagues and athletes with additional revenue streams TV Broadcasting and Programming Visibility and advancement opportunities.
WSE Holdings includes numerous entities that are focused on advancing the women's sports industry. The Women's Professional World Games, a trademarked premier international event that showcases female athletes' talents, is one such entity. The event's creation highlights the prowess and skill of women participating in various competitive sports and supports the spirit of empowerment and equality with Winter, Fall & Junior Games dedicated to Women Only, with its first Womens Professional World Games slated for 2025.
Femtitude Inc., the affiliated company, intends to launch its women's sports apparel and memorabilia licensing which include Women Sports NFT's, as well as a dedicated women's sports service and Women Money Visa Card. Femtitude products celebrate women in sports who have been historically overlooked and aim to create opportunities for women's sports while also aiding their growth. Ultimately, this will help fight gender pay inequality and provide new ways for women to become involved in sports.
WSE Holdings is in the process of developing the Women's Sports and Entertainment Network (WSEN), slated for launch during the Femconn Women's Sports & Entertainment Conference, coinciding with the Super Bowl Week in Las Vegas in February 2024. Prior to its official launch, WSEN has already gained traction and recently negotiated additional outside distribution partners. The network will be accessible through a downloadable app, Roku, Firestick and will cater to over 6 billion viewers, spread across 195 countries with their additional global distribution, including Pay-Per-View offerings. WSEN's emergence as a dedicated platform for women's sports content and entertainment will provide additional revenue streams and endorsement opportunities to women's sports leagues and athletes alike.
The Women's Sports & Entertainment Awards. The Women's Sports and Entertainment Network Awards feature 36 categories aimed at promoting talented Professional Women athletes and individuals who have made significant contributions to the advancement of women in the sports and entertainment industry.
This event serves as a powerful global "Women's Empowerment Initiative", representing not only an entertaining and charitable brand, but also a celebration of women who have made a lasting impact in the world of sports. The WSEN Awards will become the notable Women's Sports & Entertainment Awards honoring Women from around the globe.
Furthermore. the company just released its dates for Femconn the largest Women & Sports Entertainment Conference where the company will launch and display their assets to the world.
About the Company:
WSE Holdings Corporation is poised to become the next leading Entertainment Company in the Women's Sports Industry. With several profit centers dedicated to monetizing and creating revenue streams for female athletes, WSE Holdings Corporation is balanced to revolutionize women's sports. The corporation's assets have the potential to transform opportunities for female athletes and produce engaging content tailored to a business-driven strategy that leaves viewers craving for more entertainment on and off the field.
SAFE HARBOR STATEMENT

This WSE Holdings corporation may contain forward-looking statements within the meaning of Section 27A of the Securities Act of 1933 and Section 21E of the Securities Exchange Act of 1934. These forward-looking statements are based on current plans and expectations of management and are subject to a number of uncertainties and risks that could significantly affect the company's current plans and expectations, as well as future results of operations and financial condition.

Marcia Smith
For The Company
+1 833-663-1600
email us here


Originally published at https://www.einpresswire.com/article/640511151/women-s-sports-entertainment-holdings-company-reveals-their-womens-sports-assets-and-company-launch