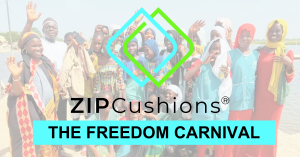 ZIPCushions pledges to Women's Global Education Project, enriching women's education in Africa as part of their Freedom Carnival initiative.
One of our campaign's key objectives is to underscore the empowering nature of freedom – the freedom to learn, grow, and thrive."
— Priyesh Sanghvi, Director at ZIPCushions
DENVER, COLORADO, USA, July 1, 2023/EINPresswire.com/ — ZIPCushions, a leading provider of custom-made cushions across North America, has taken a meaningful step forward in its mission to drive societal change with a pledged donation to the Women's Global Education Project (WEGP). WGEP empowers women and girls in Sub-Saharan Africa's rural regions through education. This move by ZIPCushions is a testament to the brand's unwavering commitment to fostering community growth and driving positive societal change.
The commitment is a pivotal part of ZIPCushions' ongoing Independence Day initiative, 'The Freedom Carnival.' More than a mere celebration, this campaign represents the American values of freedom that inspire growth, learning, and development within communities. With the 'Freedom Carnival,' ZIPcushions aims to create a measurable impact that aligns perfectly with its guiding principles of fostering community development and instigating positive societal change.
Priyesh Sanghvi, Director at ZIPCushions, commented, "One of our campaign's key objectives is to underscore the empowering nature of freedom – the freedom to learn, grow, and thrive. Our commitment to the 'Women's Global Education Project' crystallizes this ethos, fortifying our resolve to empower and educate women and girls, thereby sparking transformative societal change."
He further elaborated, "The Freedom Carnival is more than a seasonal sale; it manifests our commitment to celebrating the spirit of freedom in its purest form. It is an expression of our dedication to the essence of freedom – empowering communities and endorsing the universal right to learn and prosper. Our commitment to Women's Global Education Project is a testament to this very ambition."
ZIPCushions has consistently demonstrated a philanthropic spirit that goes hand-in-hand with its business operations. The company has a history of generous donations and pledges that have benefited a multitude of causes. Previous campaigns have showcased ZIPCushions' commitment to giving back, like dedicating a portion of each sale towards supporting charitable initiatives, pledging meals for children through Feeding America, supporting minority communities through employment, etc.
About Women's Global Education Project
WGEP advocates for universal education, gender equality, and empowerment of women. Their mission has been to educate and empower women and girls in rural regions of Africa. They have served over 20,000 women and girls across 173+ rural communities since 2004, ensuring that their work is community-driven and sustainable.
About ZIPCushions
ZIPCushions is a Colorado-based company renowned for creating unique, tailor-made cushions and throw pillows for all settings, be it households or hospitality environments. ZIPCushions is loved for its high-quality products, plush designs, and premium foams and fabrics. Customers can opt from their extensive list of predefined shapes or submit their own custom layouts along with product specifications and design requirements. Apart from serving retail customers, ZIPCushions also caters to interior designers, hospitality businesses, real estate companies, and developers of residential and commercial properties. ZIPCushions' manufacturing operations provide secure employment with fair wages, primarily benefiting women from minority communities.
In the spirit of the ongoing 'Freedom Carnival' and the celebration of Independence Day, ZIPCushions invites its customers to partake in a special sale on their custom cushion range. This offer not only provides an opportunity to enjoy the exceptional quality and comfort of ZIPCushions but also further enables the brand to continue its dedicated efforts in philanthropy, marking a celebration of freedom that benefits all. For further information you can visit ZIPCushions' website.
Priyesh Sanghvi
Cozy Corner Patios
+1 720-331-6220
[email protected]
Visit us on social media:
Facebook
LinkedIn
Instagram
YouTube


Originally published at https://www.einpresswire.com/article/642534692/zipcushions-helps-boost-women-s-education-through-women-s-global-education-project