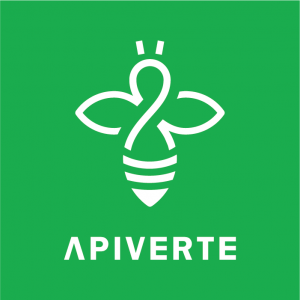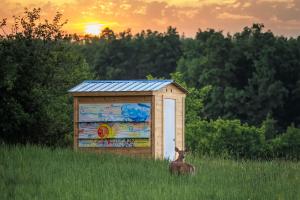 EZHouse Deluxe @ Leystone Farms in Luskville Quebec, mural painted by Iris Kiewiet, photo credit Cindy Mulvihill Photography
EZHouse Mini @ Les Fougeres Restaurant in Chelsea Quebec
Making Beekeeping Easier, More Secure, and More Accessible
WAKEFIELD, QUEBEC, CANADA, June 27, 2023/EINPresswire.com/ — Apiverte, a leading innovator in sustainable beekeeping solutions and the creator of the ground-breaking EZHouse, is proud to announce that the product has achieved patent-pending status after an extensive 5-year development period. With a commitment to environmental sustainability and the vital role of bees in our ecosystem, Apiverte is transforming small-scale beekeeping with its all-in-one habitat for honeybees.
The EZHouse offers unparalleled shelter and enhanced security for bees, while simultaneously simplifying the beekeeping process for caregivers. By employing a design specifically tailored for human interaction, beekeepers can effortlessly access their colonies to provide essential health monitoring and care. Engineered to withstand North American conditions, the EZHouse introduces an alternative bee management approach for small-scale producers, effectively eliminating many of the barriers associated with traditional beekeeping practices.
"At Apiverte, we firmly believe in working smarter, not harder, to enhance the welfare of bees. By eliminating the heavy lifting typically associated with inspections, the EZHouse facilitates regular interaction between beekeepers and their colonies, ultimately resulting in improved overall bee health," stated Sandra Bornn, Co-founder of Apiverte. "Our mission is to remove obstacles that hinder beekeepers from maintaining healthy colonies by offering an improved habitat designed with their needs in mind."
Over the past 5 years, Apiverte has formed partnerships with like-minded businesses in the Gatineau Hills, using it as a testing ground for the EZHouse while simultaneously raising community awareness regarding the importance of honeybees and native pollinators. Noteworthy collaborators include Restaurant Les Fougeres, Le Moulin Wakefield Mill, ferme Juniper Farm, Maision Fairbairn House, and Century 21. These partnerships have fostered a shared commitment to empowering the community, promoting informed choices, resilient food systems, and biodiversity preservation.
To actively engage the community, all EZHouses in the Gatineau Hills showcase commissioned murals created by local artists. These captivating artworks serve as a bridge to educational programs, community outreach initiatives, and collaborative partnerships. Apiverte is dedicated to empowering individuals, organizations, and beekeepers with knowledge and resources to protect and nurture bee populations worldwide.
About Apiverte:
Apiverte was founded in 2019 by husband and wife team Michael Smith and Sandra Bornn in Wakefield, Quebec. They manage 120+ honey bee colonies exclusively in EZHouses on host partner properties throughout the municipalities of Chelsea, La Peche, Low, and Luskville.
The EZHouse is now available for purchase in various sizes, catering to backyard and small-scale beekeepers. For more information about Apiverte, the EZHouse, and their comprehensive range of products, please visit the website at: apiverte.ca.
Sandra Bornn
Apiverte Inc.
+1 819-598-9983
[email protected]
Visit us on social media:
Facebook
Instagram
Other


Originally published at https://www.einpresswire.com/article/641634616/apiverte-introduces-the-revolutionary-ezhouse-now-available-in-canada-and-the-us