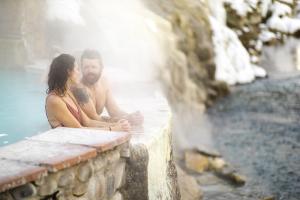 The Springs Resort in Colorado Offers Male-Friendly Hot Springs-Themed Activities from Warrior Plunge to Sports Recovery Soaking Guides
Contrast bathing is like a workout for your cardiovascular system; improving circulation, increasing metabolism, enhancing muscle recovery, boosting energy levels & reducing stress & anxiety levels."
— Dr. Marcus Coplin
PAGOSA SPRINGS, COLORADO, UNITED STATES, June 15, 2023/EINPresswire.com/ — Reflecting the latest stats from the International Spa Association study showing that the male/female ratio of spa guests is now 49% to 51%, The Springs Resort in Pagosa Springs, Colorado, has seen a surge in male clientele in recent years. To celebrate the trend, the resort — which was voted this year as the "Best Spa Resort in the U.S." by USA Today's 10Best — is offering male-friendly wellness activities and services during Men's Health Month in June.
The 79-room hot springs resort – home to the world's deepest geothermal spring — is looking beyond the adventure activities that the Rocky Mountain State is known for like skiing, rafting, and hiking. Instead, this month The Springs is highlighting wellness activities particularly attractive to men such as the Warrior Plunge, a contrasting bathing experience that cycles soaks in the icy San Juan River and the resort's geothermal mineral pools for an invigorating boost. Hang Time offers a tranquil retreat from daily worries and digital distractions in a hammock hanging between trees at a nearby ranch and Restful Recharge is a guided late afternoon deep relaxation session designed to rejuvenate and restore.
Even the new Soaking Guides created for day and overnight guests by The Spring's Medical Director, Dr. Marcus Coplin, Naturopathic Medical Doctor and Director of Hydrothermal Medicine for the Balneology Association of North America, are male-friendly. The guides focus on Restoration (sports recovery), Sleep Enhancement, Detoxification, and General Well-being through therapeutic soaking in geothermal water.
The Department of Health and Human Services states, "Men are expected to live nearly six years less than women. Many conditions disproportionately impact men, like heart disease and cancer. And men are likely to have lower health literacy levels than women."
With this in mind, a healthful and revitalizing retreat to the Springs Resort, with its mineral-rich, natural hot springs, could be an inspiring catalyst for a lifestyle transformation.
"It's vital for men to understand the profound benefits of hot/cold bathing circuits," explains Dr. Coplin, "foremost of which is help with preventing lifestyle diseases. Contrast bathing is like a workout for your cardiovascular system; improving circulation, increasing metabolism, enhancing muscle recovery, boosting energy levels and, perhaps key, reducing stress and anxiety levels."
An ideal destination for solo male travelers or those traveling with friends, family, or a group, The Springs Resort offers a water-themed "beach vacation" in the mountains and a male-friendly spa experience by Mother Earth.
About The Springs Resort:
The Springs Resort features 79 rooms and suites steps from 25 soaking pools, fed by the deepest geothermal hot spring in the world and terraced along the San Juan River. Whether you're close to the Mother Spring, with views of early morning steam rising from her mythical depths, or in our Lodge overlooking the river – wherever you stay, you'll enjoy 24-hour access to the pools, including VIP access to the adult-only Relaxation Terrace, daily wellness activities and experiences, and unlimited towel and robe exchange. For more, visit www.pagosahotsprings.com
Kim Marshall
S'Well The Agency
+1 310-452-1234
email us here
Visit us on social media:
Facebook
Twitter
LinkedIn
Instagram


Originally published at https://www.einpresswire.com/article/639531762/best-spa-resort-in-u-s-celebrates-men-s-health-month