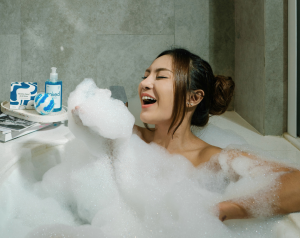 People think to 'relax' in a hotel must be enjoying the pool or comfy bed… but rarely the bathrooms. Four Points Pakuwon Indah has a new experience to offer.
SURABAYA, EAST JAVA, INDONESIA, November 16, 2023 /EINPresswire.com/ — Four Points by Sheraton Surabaya, Pakuwon Indah sees this opportunity to provide an all-around relaxing staycation journey. Achmad Syaifudin, the Hotel Manager explained, "As a brand, 'Relax While Traveling' is our brand promise where we deliver the relaxing experience for our guests during their family, leisure or business trip. Through that, we wanted to leverage the promise into our services and facilities in every opportunity we can find, and sometimes in the places we rarely think of – in the guest bathroom!"
The award-winning hotel offers a new relaxing experience in their suite bathrooms with new additions to bath amenities: bath bomb and bubble bath. Not only the ordinary color-bursting bath bomb, but also the specially customized ones. Named as 'Bombs Away! And Relax', the bath bomb not only mimicking the hotel's slogan of 'Kick Back and Relax', but also absorbing the Four Points brand color palette, Dark Wash Denim, and signature scent of Citrus Bourbon. "By providing this exciting yet relaxing bath experience, we hope our guests can freshen up after their long day of travels – then dip right in the oceanic blue color of hot bath and embraced by warm clouds of bubble bath," added Achmad Syaifudin.
'Bombs Away! And Relax' is now added as the complimentary bath amenities at the suite rooms of Four Points by Sheraton Surabaya, Pakuwon Indah, and available to reserve at fourpointssurabayapakuwonindah.com
###
About Four Points by Sheraton®
Four Points by Sheraton is a global brand with over 305 hotels in 43 countries and territories. At Four Points, travel is reinvented where timeless classics are woven with modern details, paired with genuine service in a casual environment—all around the world. Four Points hotels can be found in the heart of urban centers, near the beach, by the airport, or in the suburbs. Each hotel offers a familiar place to kick back and relax with an authentic sense of the local, where guests can watch sports and enjoy the brand's Best Brews® program. Four Points is proud to participate in Marriott Bonvoy®, the global travel program from Marriott International. The program offers members an extraordinary portfolio of global brands, exclusive experiences on Marriott Bonvoy Moments and unparalleled benefits including free nights and Elite status recognition. To enroll for free or for more information about the program, visit marriottbonvoy.com. To learn more about Four Points, visit us online.
Tessa Zelyana
Four Points by Sheraton Surabaya, Pakuwon Indah
[email protected]
Visit us on social media:
LinkedIn
Instagram


Originally published at https://www.einpresswire.com/article/668935378/four-points-pakuwon-indah-launches-new-relax-while-traveling-stay-experience