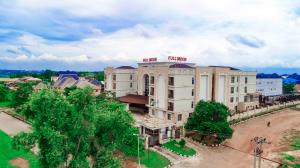 Logo of FULL MOON HOTELS, Owerri. Imo State, Nigeria
Chairman/CEO of FULL MOON HOTELS LIMITED, Mr. Chike Okoroafor
… Sets New Standards for Sustainable Hospitality in Nigeria
FULL MOON is embracing a more comprehensive waste management system, aiming for zero waste production."
— Chairman/CEO of FULL MOON HOTELS LIMITED, Mr. Chike Okoroafor
NEW YORK CITY, NEW YORK, UNITED STATES, July 3, 2023/EINPresswire.com/ — In a world where sustainable practices and environmental consciousness are becoming increasingly vital, FULL MOON HOTELS LIMITED has taken a bold step towards a greener future. Located in the heart of Owerri, Imo State, Nigeria, this pioneering hotel is set to achieve a significant milestone as Africa's First Green Zero Waste Hotel. With its commitment to providing exceptional carbon-neutral hospitality services, FULL MOON has embraced innovative green technologies and practices, establishing itself as a shining example for sustainable tourism across the continent.
The global hospitality sector has long been grappling with the environmental impacts of its operations. However, in recent years, there has been a shift towards sustainability-driven initiatives, and green hotels are at the forefront of this transformation. These establishments prioritize energy efficiency, resource conservation, and waste reduction, minimizing their carbon footprints and striving to preserve the planet for future generations.
In a statement from GREENPLINTH AFRICA, on behalf of NUMERIX DEVELOPMENT LIMITED, Carbon Credits, Carbon Finance and Carbon Emissions Reduction Joint Venture Partners to the Imo State Government, FULL MOON is set to redefine luxury hospitality by merging opulence with environmental stewardship. The hotel is a testament to the potential of innovative technologies in achieving sustainability without compromising guest comfort or experience – All round security and exceptional luxury guaranteed. By implementing cutting-edge solutions, FULL MOON is leading the charge in transforming the hospitality industry across the continent – Revolutionizing the Hospitality Industry.
Speaking on the groundbreaking initiative, the Chief Executive Officer of NUMERIX DEVELOPMENT, Engr. Babatunde Aina, says "this is a Paradigm Shift towards Sustainability – FULL MOON is setting a new benchmark by embracing innovative green net-zero emissions and efficient technologies. The hotel's commitment to sustainability encompasses every aspect of its operations, from energy consumption and waste management to guest experience and community engagement".
Also speaking about the hotel's Innovative Green Technologies, the Chairman/CEO of FULL MOON HOTELS LIMITED, Mr. Chike Okoroafor, affirmed that the heart of the hotel's sustainable operation lies in its use of Innovative Green Net-Zero Emissions technologies. Incorporating advanced solar panels, wind turbines, biogas, and a hybrid of clean energy systems to harness renewable energy sources. This approach ensures that the hotel not only meets its own energy demands but also generates surplus clean energy, which can be fed back into the grid. By reducing its reliance on fossil fuels, the hotel significantly minimizes its carbon footprint and contributes to mitigating climate change.
Speaking further on Resource Management, he revealed that the hotel's commitment to sustainability extends beyond energy conservation. FULL MOON is embracing a more comprehensive waste management system, aiming for zero waste production. Through recycling, composting, and innovative waste-to-energy technologies, the hotel will ensure that waste is minimized, and repurposed efficiently. This approach not only reduces environmental pollution but also presents economic opportunities by creating a circular economy within the local community. "The hotel's cutting-edge energy management system optimizes energy consumption, ensuring that resources are used efficiently – Intelligent lighting systems, LED lighting, and automated climate control. Water conservation measures, such as rainwater harvesting and greywater recycling, significantly reduce water usage and promote responsible resource management." He concluded.
Recognizing the impact of food production on the environment, FULL MOON places a strong emphasis on sustainable and locally sourced cuisine. The hotel's restaurants prioritize seasonal, organic, and locally grown ingredients, reducing carbon emissions associated with long-distance transportation and supporting local farmers and suppliers. Through farm-to-table initiatives, guests can enjoy culinary delights while actively contributing to the reduction of their ecological footprint.
The hotel also educates and engages its staff and guests in sustainable practices, fostering a culture of environmental responsibility. By promoting awareness and providing opportunities for active participation, FULL MOON aims to inspire others within the hospitality industry to embrace similar eco-friendly practices.
As the global consciousness regarding climate change and environmental responsibility grows, the tourism industry has a crucial role to play in minimizing its carbon footprint. Full Moon's visionary approach to sustainability offers a blueprint for the future of hospitality in Africa.
FULL MOON HOTELS LIMITED is strategically leading and opening global opportunities for sustainable CARBON CREDITS attraction for the hospitality industry in Imo State, Nigeria, and Africa.
The ripple effects of this landmark hotel can drive economic growth, generate employment opportunities, and inspire other industries to adopt sustainable practices. Not only does this initiative contribute to the fight against climate change, but it also showcases the potential for economic growth, community empowerment, and environmental preservation within the African context.
As Africa's first of its kind, FULL MOON HOTELS LIMITED paves the way for a greener future and demonstrates the transformative power of sustainable development in the global hospitality sector.
Juddie U Passion
GreenPlinth Africa
+1 929-453-8369
[email protected]
Visit us on social media:
Facebook
Twitter
LinkedIn
Instagram


Originally published at https://www.einpresswire.com/article/642712619/full-moon-hotels-limited-pioneers-africa-s-first-green-zero-waste-hotel