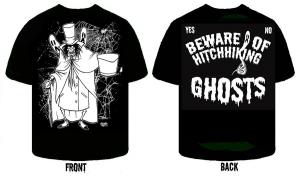 Elusive Phantom Is A Haunted Mansion Favorite
The Hatbox Ghost is unique in that his fame largely comes from the fact that he was removed from the Haunted Mansion …this helped him attain a kind of mythos that grew his legend despite his absence"
— Mike Drake
ANAHEIM, CALIFORNIA, USA, June 23, 2023/EINPresswire.com/ — Eric "Unkle" Pigors, an artist who was a Disney animator for nearly two decades, has released a new t-shirt that is thrilling fans of the storied Haunted Mansion. The design features the legendary Hatbox Ghost who is arguably one of the most popular of the attraction's 999 spirits. Communications consultant and pop culture maven Mike Drake explains "The Hatbox Ghost is unique in that his fame largely comes from the fact that he was removed from the Haunted Mansion shortly after it opened, but they continued to use his image to promote the Mansion. This helped him attain a kind of mythos that grew his legend despite his absence."
The new Hatbox Ghost shirt pays tribute to the elusive phantom on the front and features the phrase Beware Of Hitchhiking Ghosts on the reverse along with an Ouija planchette. Lovers of the macabre can pre-order the shirt at the ToxicToons website.
Pigors' ToxicToons shirts have become a favorite of musicians and have been worn on the cover of Rolling Stone. Guitarist Slash is especially fond of them and often wears one on stage. Pigors has also created art for Metallica, the MurderDolls, and the Ghastly Ones.
The new design ships in late July, just in time for fans to wear it while watching Disney's new Haunted Mansion film opening in theaters on July 28th. Jared Leto is rumored to play the Hatbox Ghost in the latest cinematic adaptation.
Gina Rathbourne
City News Syndicate
email us here
Visit us on social media:
Facebook
Instagram


Originally published at https://www.einpresswire.com/article/641167568/hatbox-ghost-shirt-is-must-have-item-for-dark-ride-aficionados