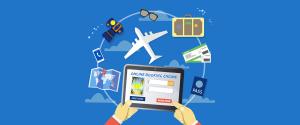 The global online travel market size reached US$ 512.5 Billion in 2023. By 2032, it will reach US$ 1,267.1 Billion, growing at a CAGR of 10.4% (2024-2032)
SHERIDAN, WYOMING, USA, November 16, 2023 /EINPresswire.com/ — How Big is the Online Travel Industry?
The global online travel market size reached US$ 512.5 Billion in 2023. Looking forward, IMARC Group expects the market to reach US$ 1,267.1 Billion by 2032, exhibiting a growth rate (CAGR) of 10.4% during 2024-2032.
Online travel refers to the process of planning, researching, booking, and managing travel-related services and accommodations through digital platforms and internet-based technologies. This includes using websites, mobile apps, and other online tools to explore destinations, compare prices, and make reservations for flights, hotels, rental cars, activities, and more. It allows travelers to customize their travel experiences by selecting specific flights, accommodations, and activities that suit their preferences, creating unique and tailored trips. It offers flexibility in terms of modifying bookings or canceling reservations, subject to the terms and conditions of providers.
Request Sample Copy of This Report: https://www.imarcgroup.com/online-travel-market/requestsample
What is the trend and growth prospects in the online travel market?
The increasing accessibility of smartphones and high-speed internet connectivity is allowing individuals to search for destinations, compare prices, and make bookings on the go. Additionally, the escalating demand for personalization is prompting online travel agencies (OTAs) and travel providers to invest in data analytics and artificial intelligence (AI) technologies. These tools analyze the past behaviors and preferences of travelers to offer customized recommendations, including destination suggestions and hotel choices.
Apart from this, the proliferation of boutique hotels and the growth of unique lodging options like vacation rentals are positively influencing the market. Furthermore, online travel agencies and metasearch engines are simplifying the booking process by aggregating options and allowing travelers to make informed decisions. Moreover, the rising consciousness among the masses about the environmental impact of their journeys is driving the demand for eco-friendly and responsible travel options.
This includes eco-conscious accommodations, the promotion of carbon offset programs by airlines, and the rising focus on reducing single-use plastics in the hospitality sector. Besides this, the integration of technology and data analytics in online travel is enhancing efficiency and personalization. AI and machine learning (ML) algorithms can analyze vast amounts of data to offer travelers tailored recommendations. These technologies can predict travel trends, optimize pricing strategies, and provide real-time updates on travel advisories and safety information.
Ask Analyst for Customization and Explore Full Report with TOC & List of Figure: https://www.imarcgroup.com/request?type=report&id=5373&flag=C
What is included in market segmentation?
The report has segmented the market into the following categories:
Breakup by Service Type:
• Transportation
• Travel Accommodation
• Vacation Packages
Breakup by Platform:
• Mobile
• Desktop
Breakup by Mode of Booking:
• Online Travel Agencies (OTAs)
• Direct Travel Suppliers
Breakup by Age Group:
• 22-31 Years
• 32-43 Years
• 44-56 Years
• Above 56 Years
Breakup by Region:
• North America: (United States, Canada)
• Asia Pacific: (China, Japan, India, South Korea, Australia, Indonesia, Others)
• Europe: (Germany, France, United Kingdom, Italy, Spain, Russia, Others)
• Latin America: (Brazil, Mexico, Others)
• Middle East and Africa
Inquire or Share Your Questions If Any Before the Purchasing This Report – https://www.imarcgroup.com/request?type=report&id=5373&flag=F
Who are the key players operating in the industry?
The report covers the major market players including:
Expedia Group Inc.
Fareportal Inc.
Hostelworld Group plc
HRS
Hurb
MakeMyTrip Pvt. Ltd.
priceline.com LLC (Booking Holdings Inc.)
Thomas Cook India Ltd. (Fairfax Financial Holdings Limited)
Tripadvisor Inc.
Yatra.com
If you require any specific information that is not covered currently within the scope of the report, we will provide the same as a part of the customization.
About Us
IMARC Group is a leading market research company that offers management strategy and market research worldwide. We partner with clients in all sectors and regions to identify their highest-value opportunities, address their most critical challenges, and transform their businesses.
IMARC Group's information products include major market, scientific, economic and technological developments for business leaders in pharmaceutical, industrial, and high technology organizations. Market forecasts and industry analysis for biotechnology, advanced materials, pharmaceuticals, food and beverage, travel and tourism, nanotechnology and novel processing methods are at the top of the company's expertise.
Contact US
IMARC Group
134 N 4th St. Brooklyn, NY 11249, USA
USA: +1-631-791-1145 | Asia: +91-120-433-0800
Email: [email protected]
Follow us on Twitter: @imarcglobal
LinkedIn: https://www.linkedin.com/company/imarc-group/mycompany/
Anand Ranjan
IMARC Services Private Limited
+1 6317911145
email us here


Originally published at https://www.einpresswire.com/article/668939760/online-travel-market-report-industry-top-companies-growth-latest-trends-by-2024-2032