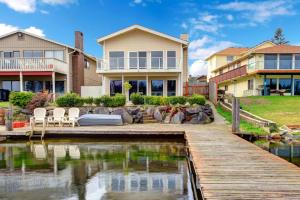 Proper Insurance highlights safety and comprehensive commercial liability coverage as key solutions for waterfront vacation rentals.
BOZEMAN, MONTANA, UNITED STATES, June 15, 2023/EINPresswire.com/ — Proper Insurance, a leader in short-term rental insurance, advises hosts with waterfront properties to take rigorous precautions in evaluating and mitigating potential hazards for the safety of their guests and to limit liability issues.
Given the rising concern over negligence leading to legal complications and insurance claims, Proper Insurance is championing the importance of proactive safety measures. Waterfront properties pose unique risks, including drowning, mishandling of watercraft, slips-and-falls on wet surfaces, and incidents involving water toys and equipment such as slides and diving boards.
Lake homes, in particular, are identified as high-risk due to potential accidents occurring both on and off the property. Proper Insurance strongly encourages rental hosts to identify and address these risks and to ensure their insurance policies provide comprehensive coverage, including off-premise liability.
To minimize risk, the company recommends several safety measures, such as installing 'Swim at Own Risk' signs, providing rescue equipment, and removing high-risk amenities like diving boards, open slides, and pool toys. Small watercraft can attract guests, but safety should be a priority, and information about their proper use should be readily available.
Recognizing the added risks of winter conditions like ice and snow, Proper Insurance advises hosts to implement appropriate safety measures during colder months.
Highlighting the significance of proper underwriting, Proper Insurance recommends partnering with insurance carriers who deeply understand the unique needs of short-term rental properties. Such expertise can help identify potential issues and mitigate risks effectively.
Proper Insurance is at the forefront of the short-term rental insurance industry, with over 100,000 policies written across all 50 states. The company's robust coverage is backed by Lloyd's of London and Concert Group and has exclusive endorsements from short-term rental industry leaders such as Vrbo.
Offering a true commercial liability solution custom written for the unique liability risks of short-term rental businesses, Proper Insurance aims to bring peace of mind to hosts. This custom liability offering does not exclude coverage for amenities like paddleboards and other small watercraft.
Further, commercial liability responds to events that may occur on or off the owner's property and can protect hosts from potential claims arising from amenities like watercraft, which guests may use on bodies of water that the host does not directly own. This unique offering showcases Proper's commitment to comprehensive protection, considering a broad spectrum of scenarios to ensure client security.
Tatum Bayne
Proper Insurance
email us here
+1 8886316680
Visit us on social media:
Facebook
Twitter
LinkedIn
Instagram
YouTube
TikTok


Originally published at https://www.einpresswire.com/article/639450381/proper-insurance-promotes-safe-waterfront-vacation-rental-practices-promotes-commercial-general-liability-as-solution