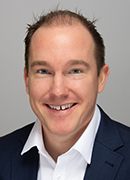 Ryan Howarth, AMAG Technology, VP of Technical Services
www.AMAG.com (an Allied Universal Company)
www.AMAG.com/solutions

www.SecuritySolutionsWatch.com
…And How It Ties Into Technical Support. "In The Boardroom"…On SecuritySolutionsWatch.com
We are honored to chat today with Ryan Howarth, Amag Technology, VP of Technical Services, about the Company's "customer-first" guiding philosophy and how it ties into technical support"
— Martin Eli, Publisher
NEW YORK, NY, UNITED STATES, June 19, 2023/EINPresswire.com/ — SecuritySolutionsWatch.com: Thank you for joining us today, Ryan. Congratulations on your amazing journey at AMAG since 2004, about two decades now. Along the way, you have seen revolutionary changes in technology, business processes, and society as well. Before drilling down into your current role and goals for your team, please tell us more about your background.
Ryan Howarth: I cannot believe how time creeps up on you. Before starting at AMAG, I completed a BSC Hon's Degree in Computer Systems and Networks. This course gave me the opportunity to have a year in industry and I took a placement year working for Mars Inc within their IT group.
I started to work for AMAG back in 2004 in their test department and from there I progressed into Technical Support working on an older cashless vending product. I then went on to lead the Technical Support team in the UK. After that I supported the introduction of a Development Support arm within the group, before heading up the Technical Services department for all AMAG support.
SecuritySolutionsWatch.com: We had the pleasure of speaking recently with AMAG's new President, David Sullivan (https://www.securitysolutionswatch.com/Interviews/in_Boardroom_AMAG_David_Sullivan.html) and also with Paul Edwards, AMAG's Executive Vice President of Business Technology (https://www.securitysolutionswatch.com/Interviews/in_Boardroom_AMAG_Paul_Edwards.html) . In both discussions, AMAG's customer-first culture was stressed as a top priority. David Sullivan recently said, "Instilling a customer-first culture is at the forefront of my mission as president (https://www.amag.com/post/top-resellers) , and our entire organization continues to work hard to support all of our channel partners to the greatest extent possible." Please share with us, Ryan, how this guiding philosophy of "customer-first" ties into your current role, and the goals for your team, such as lower call-hold times.
Ryan Howarth: For Technical Services, this means examining our internal processes and using metrics to measure several KPIs to see where we need to improve or change. We are also looking at what we can do to add further value to our services with the goal of continuously improving how we support our customers. One such improvement was utilizing technology to bring the team together, allowing us to increase the hours of service that we provide and improving our average call hold times, which today are 1m15s for the year.
SecuritySolutionsWatch.com: Please tell us about ZenDesk and what is your vision regarding how it can improve interactions between AMAG customers and AMAG support.
Ryan Howarth: Our vision is to provide the best Support in the industry. As part of this journey, we aim to improve the self-services/knowledge base service that we provide, as well as be proactive in preventing issues from appearing in the first place. AMAG had an older ticketing system, with little to no integration available. From August 2022, we invested in a new, feature-rich system that allows the team to communicate with the different departments in the organization that need visibility into their customer's activity. This allows us to be more proactive instead of always reactive.
In addition, the new system streamlines our Support team and makes them more efficient. A few examples of this are that Technical Services is running all on the same platform, so we can have the global team operate as one unit, allowing support to be available for a longer period of time throughout the day and the team to pass tickets to one another to continue work. The Phone system and Ticketing system are also linked together so if the number we have for the customer is in our system, it will bring up their profile so we can not only talk about the current issue, but any of their active issues they may have with AMAG. This then allows us to provide current updates to the customer at the same time.
SecuritySolutionsWatch.com: Your perspective on "training" Ryan, is very compelling…every employee in every department has a role to play in achieving AMAG's customer-first focus. Please tell us more.
Ryan Howarth: This is part of the Customer-FIRST initiative that our president, David Sullivan, has brought to AMAG. In any business, there is an assumption that employees know what you do and what we sell, however, this cannot be further from the truth. To help the business as a whole, each department is giving a short training on their department, the products we provide and general knowledge about the industry, like Access Control 101 training. These training sessions are recorded so employees, old and new, can access and watch them at any time. This education ensures that employees know our company and business inside out and therefore drives our company forward by allowing the employees to feel empowered and direct customers quickly and efficiently to the right department.
SecuritySolutionsWatch.com: The "bad guys" are, unfortunately, getting more bold and more sophisticated all the time. They might be a nation-state, a well-organized hacker group, a lone wolf, an insider or an outsider. Layer on top of this the growth of more remote workers and the plethora of mobile devices connected to the network. What are some of your strategies, Ryan, "best practices" if you will, that you are implementing to mitigate risk as much as possible in this constant threat environment?
Ryan Howarth: Up-skilling our employees is key, and this is not only with how to prevent such attacks like watching out for phishing emails, but more importantly what to do when an attack has happened or reporting if an attempt has been made to prevent any future attacks. We are working on implementing a more focused Cyber Security program which includes ethical hacking and drawing up risk assessments within our business.
SecuritySolutionsWatch.com: EC council is the world's largest cybersecurity technical certification body. They define "ethical hacking" (https://www.eccouncil.org/cybersecurity/what-is-ethical-hacking/) as follows: "Ethical hacking is a process of detecting vulnerabilities in an application, system, or organization's infrastructure that an attacker can use to exploit an individual or organization." Is ethical hacking in your toolbox at this time?
Ryan Howarth: This is sometimes hard to gauge, as it is down to the use case for where the attack is happening, and therefore down to the environment that the application sits on and/or the infrastructure. Within AMAGs coding practices, we use some development tools to help find any gaps within our code, as well as using a third party group to see if they can detect any vulnerabilities. In the past, we have had customers provide feedback on their internal tests. Finally, to help our customers we provide a Hardening Guide that helps lock down their system.
SecuritySolutionsWatch.com: We understand that AMAG will be at GSX September 11-13, 2023, Dallas, TX. Any early-bird news you would like to share with our readers at this time?
Ryan Howarth: We will be showcasing our AMAG Technology Professional Services team (https://www.amag.com/services) and the comprehensive list of services they offer. While this team has been around for a while, we've honed in on how this department can help our integrators be more successful. Working side-by-side with our integrators, we can help improve efficiencies within the Symmetry Security Management System and provide support in several areas. We should also have a few product surprises, but it's too early to share the details at this time.
SecuritySolutionsWatch.com: Thank you again for joining us today, Ryan. Is there anything else you would like to discuss today?
Ryan Howarth: It's an exciting time at AMAG right now. We are making several internal improvements, and working on many Symmetry enhancements that will help our customers. The training team is ramping up its support offering with new training videos. The recent launch of our AMAG Technology Professional Services team is another demonstration of our commitment to our customers. I am thrilled to be a part of AMAG Technology and can't wait to see where we are in three to five years.
*****************************************************************************************************************
AMAG Technology Releases Symmetry CompleteView 7.3
AMAG Technology announced the release of Symmetry CompleteView 7.3 (https://www.amag.com/post/symmetry-completeview-7-3) .
The latest release enables remote management and monitoring while retaining the flexibility to leverage on-premise access to data. The updated video management platform also provides camera analytic support, enhanced playback and Web Views.
Customers will directly benefit from improvements to predictive storage analytics, enhanced camera analytic event support, and updated search and playback experiences.
For more info, please click here: https://www.amag.com/post/symmetry-completeview-7-3
*****************************************************************************************************************
For the complete "In The Boardroom" discussion with Ryan Howarth, AMAG Technology, VP of Technical Services,, please click here: https://www.securitysolutionswatch.com/Interviews/in_Boardroom_AMAG_Ryan_Howarth.html
Connect with Ryan Howarth on LinkedIn:
https://www.linkedin.com/in/ryan-howarth-1853791a8/
For more information about AMAG Technology or its Symmetry platform, visit www.AMAG.com ,
call 310-518-2380 or contact a Sales Representative (https://www.amag.com/contact)
*****************************************************************************************************************
About SecuritySolutionsWatch.com
www.SecuritySolutionsWatch.com features thought leadership and content-marketing regarding: AI, Biometrics, Cybersecurity, FinTech, IT, IoT, Robotics, Physical Security and COVID-19 solutions. Our flagship IN THE BOARDROOM platform, since 1999, has featured content-marketing programs from leading global brands such as: Allied Universal, ASSA ABLOY, AT&T, Cisco, Dell EMC, Fujitsu, G4S, GE, Gemalto, Honeywell, HPE, IBM, Intel, McAfee, Microsoft, Panasonic, SAP, Siemens, Stanley Security, Symantec, UNISYS, and many SME's, in the USA, EMEA, and APAC. For more information about us: www.SecuritySolutionsWatch.com
*****************************************************************************************************************
Martin Eli, Publisher
SecuritySolutionsWatch.com
[email protected]
Visit us on social media:
Twitter
LinkedIn
Watch the Symmetry Security Management System video here…


Originally published at https://www.einpresswire.com/article/639937667/ryan-howarth-amag-technology-vp-of-technical-services-talks-about-customer-first-guiding-philosophy