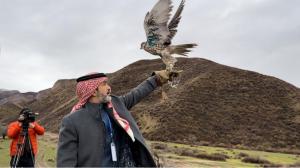 Saudi Falcon Club Implements First Phase of External Release in Kyrgyzstan
BISHKEK, KYRGYZSTAN, November 16, 2023 /EINPresswire.com/ — The Saudi Falcon Club announced the first external release of falcons as part of the "Hadad" program aimed at reintroducing falcons to their native habitats. This event took place in the Kyrgyz capital, Bishkek, in cooperation with the Kyrgyz Ministry of Environment. The event was attended by the Ambassador of the Custodian of the Two Holy Mosques to Kyrgyzstan, Ibrahim Al-Radi, the Deputy CEO of the Saudi Falcon Club, Ahmed bin Fahd Al-Hababi, the Deputy Head of the National Center for Wildlife Development, Ahmed Al-Boug, and the Deputy Commander of the Special Security Forces for Environmental Security, Brigadier General Mohammed Al-Amro.
Under the "Hadad" program, a number of falcons were released in the mountains of Kyrgyzstan in a first phase that will be followed by subsequent phases. These phases include healthcare for the falcons, a comprehensive rehabilitation program, and continuous tracking of the falcons' journey through satellite tracking devices.
The Deputy CEO of the Saudi Falcon Club, in his speech on the occasion of the external launch of the falcons in the "Hadad" program, reaffirmed the club's commitment, with the support of His Royal Highness Prince Mohammed bin Salman bin Abdulaziz, Crown Prince and Supervisor General of the Saudi Falcon Club, and His Royal Highness Prince Abdulaziz bin Saud bin Naif, Chairman of the Board, to achieving its strategic plans. These plans aim to preserve various falcon breeds from extinction, to fulfill its environmental role locally and internationally, and to develop wildlife standards. He confirmed that the goals of the Saudi Falcon Club are in line with Vision 2030, enhancing the quality of the environment and wildlife, and reviving this human heritage.
The "Hadad" program received international recognition after receiving a commendation certificate from the International Conference of the Parties to the International Union for Conservation of Nature (IUCN) in 2021 in Marseille, France. At the conference, the Saudi Falcon Club showcased its successful experiences in reintroducing falcons to their original habitats, which were considered an inspiring and replicable experience.
It should be noted that over the past two years, the Saudi Falcon Club has released Babary falcon, which are indigenous to the Kingdom and threatened with extinction. This effort contributes to their breeding and maintaining ecological balance. After collecting them from falconers and preparing them, they were released in eight administrative regions. This resulted in the formation of new natural groups, the revival of breeding sites, and the production of new chicks of the same breed within the Kingdom.
Asmaa Alsayed
SFC
email us here


Originally published at https://www.einpresswire.com/article/668971561/saudi-falcon-club-implements-first-phase-of-external-release-in-kyrgyzstan