The Tuuch cenote is the essence and centerpiece of our facilities, which is why our guests have exclusive access to it and the possibility to comfortably enjoy it in our Club Cenote
Suite with a private pool, perfect for relaxing and enjoying the surroundings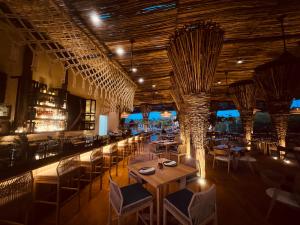 Is a gastronomic journey awakening the five senses, a space to explore, delight and reconnect
A luxury retreat nestled amidst the majestic Mayan jungle, proudly announces its official opening last week
Our privileged location amidst the majestic Mayan jungle offers a magical and secure environment where every detail has been carefully considered to provide you with a unique experience"
— Hotel Director
TULUM, QUINTANA ROO, MEXICO, June 17, 2023/EINPresswire.com/ — More than just a hotel, Shibari Tulum offers a unique experience, a place surrounded by nature with a natural cenote at its core and heart, featuring crystal-clear water.
This exclusive resort is inspired by Shibari, the Japanese art of rope tying to express emotions and sensations, thus the design, adorned with knots and bindings, invites guests on a journey to connect, release their knots, and liberate themselves.
At Shibari Tulum, guests will immerse themselves in a contemplative and vibrant atmosphere in the heart of Tulum's hotel zone. This exclusive establishment features 64 high-design suites that combine luxury and comfort to offer an unparalleled stay. The villa-style rooms with private terraces offer views of the jungle or the magnificent cenote. Additionally, their personalized and attentive service aims to ensure maximum privacy and exclusivity during the stay.
"We are extremely proud to present this project, which we have developed with exceptional passion down to the smallest detail," stated the Director of Shibari Tulum Hotel. "This place offers an experience that goes beyond the well-known standards of hospitality in our region, where luxury, exclusivity, and service excellence come together to create unforgettable memories for every guest. I am confident that this innovative proposition will elevate tourism and reinforce our reputation as a world-class destination."
At Shibari Tulum, guests will find a natural sanctuary complemented by the finest services and amenities. Our cenote club offers the opportunity to explore the underwater world of our cenote while enjoying the sun on Balinese beds.
"At Shibari Tulum, privacy and exclusivity are fundamental pillars that we guarantee to our guests," emphasized the Director.
Not forgetting the aspect of balance and well-being, Shibari Tulum offers a wide range of experiences, from yoga and meditation classes to ancestral ceremonies and Shibari workshops, all designed to find equilibrium. Additionally, the fine dining restaurant, ATTA, combines local ingredients and ancestral recipes to create contemporary and authentic cuisine.
Shibari Tulum Hotel offers an opportunity to experience a harmonious blend of luxury and exclusivity, combining elegant design with the tranquility of nature. This unique retreat allows guests to untie knots, return to their origins, and ultimately find themselves once again.
About Shibari Tulum
Shibari Tulum Hotel is an exclusive retreat located in the beautiful Riviera Maya, in Tulum, Mexico. Designed as a space for transformation and well-being, the hotel offers 64 high-design suites, some with private access to the TUUCH Cenote from the suite itself, unique experiences in the cenote, a holistic wellness sanctuary, its fine dining ATTA Restaurant, a KAN Spa with an innovative menu of massages and treatments that blend various techniques, a jacuzzi lounge to enjoy delicious drinks and good music, and architecture that seamlessly merges with the natural surroundings.
Genoveva Garcia
Marketing Zentral
[email protected]
Visit us on social media:
Facebook
Instagram
YouTube
An exclusive Resort with a cenote club


Originally published at https://www.einpresswire.com/article/639762288/shibari-tulum-hotel-opens-its-doors-to-offer-a-unique-and-exclusive-experience-in-tulum