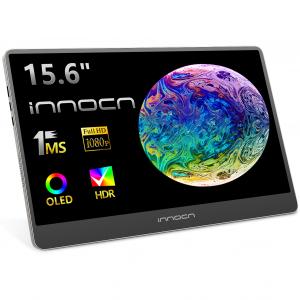 SHENZHEN, GUANGDONG, CHINA, June 15, 2023/EINPresswire.com/ — The team of researchers and developers at Shenzhen Century Joint Innovation Technology Company Ltd. (INNOCN) are true pioneers of innovation. With a name that symbolizes "Innovation China," INNOCN has been crafting exceptional monitor designs for nearly a decade, gaining recognition in recent news for its remarkable portable monitors.
Among INNOCN's impressive lineup is the INNOCN 15.6 inch OLED Portable Gaming Monitor 15A1F. This monitor proves to be an excellent choice for travel and serves as a highly functional external monitor for laptops.
The 15A1F monitor serves as an excellent companion to the Spacetop, an innovative augmented reality (AR) laptop revolutionizing daily tasks. While the Spacetop can be utilized as a 100-inch virtual canvas with NReal glasses, its DisplayPort input also enables seamless compatibility with high-definition monitors like the 15A1F. Since the Spacetop is screen-less, pairing it with the 15A1F is ideal, allowing users to multitask during plane flights, in work lounges, and even in hotel conference rooms.
The INNOCN 15A1F portable OLED monitor boasts an array of impressive features. Weighing a mere 1.6 lbs, it is incredibly lightweight, making it great for travel. With outstanding color accuracy and full HD resolution, the 15A1F delivers lifelike images that captivate the viewer. The inclusion of OLED backlighting further enhances the visual experience, while its wide compatibility ensures seamless connectivity with devices such as laptops, MacBooks, PS5, Nintendo Switch, Dell XPS, and more. Serving as the perfect second monitor, the 15A1F empowers users to work smarter.
When it comes to pricing, the INNOCN 15A1F OLED portable monitor offers great value. Priced at $349.99, it is a compelling choice for customers in the USA. For customers in the EU (DE, FR, IT, ES), this monitor is also available at an attractive price point. Don't wait, purchase the 15A1F monitor today and unlock its versatile capabilities in portability, gaming, entertainment, and beyond.
US : https://www.amazon.com/dp/B09T2SWBT5
DE: https://www.amazon.de/dp/B09V5CHVPR
FR: https://www.amazon.fr/dp/B09V5CHVPR
IT: https://www.amazon.it/dp/B09V5CHVPR
ES: https://www.amazon.es/dp/B09V5CHVPR
PL: https://www.amazon.pl/dp/B09V5CHVPR
NL: https://www.amazon.nl/dp/B09V5CHVPR
SE: https://www.amazon.se/dp/B09V5CHVPR
Media Contact
Manufacturer's Name: Shenzhen Century Joint Innovation Technology Company Limited
Manufacturer's Official Website: https://www.innocn.com/
Manufacturer's Email Address: [email protected]
Pearl Li
INNOCN
[email protected]


Originally published at https://www.einpresswire.com/article/639626651/the-innocn-15-6-inch-oled-portable-monitor-15a1f-and-the-spacetop-are-the-combo-for-multitasking