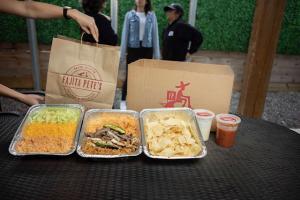 Catering makes up one-third of Fajita Pete's sales
Fajita Pete's
Tex-Mex Restaurant Breaks Down Catering Stereotypes
Takeout and catering are the two pillars that Fajita Pete's was founded on 15 years ago."
— Pedro "Pete" Mora, founder of Fajita Pete's
HOUSTON, TX, UNITED STATES, August 1, 2023/EINPresswire.com/ — Fajita Pete's, the beloved Tex-Mex restaurant chain known for its award-winning fajitas, is experiencing extraordinary growth in its catering business with catering orders up 30% for the year. Additionally, website visits to the Fajita Pete's catering form have risen by 65% year-over-year in 2023.
"We are excited to witness such remarkable growth in our catering division," said Pedro "Pete" Mora, founder of Fajita Pete's. "While the pandemic accelerated the growth of off-premises dining, takeout and catering are the two pillars that Fajita Pete's was founded on 15 years ago. Ninety-five percent of our model has always been off-premises dining, with catering making up one-third of our sales. Catering is not just something we do; catering is who we are."
Catering is one of the fastest growing services in the restaurant industry. In the U.S. alone, catering netted a whopping $61.5 billion in 2018, with an annual growth of 6%, surging ahead of the restaurant industry by 50%. Normally characterized by sandwich offerings at the office, or more upscale menus at home, catering options have become somewhat predictable over the years. Fajita Pete's is breaking this mold.
"Catering doesn't need to be expensive to be delicious and fun," noted Hugh Guill, Chief Brand Officer and franchisee of Fajita Pete's. "Our fajita packs provide a significant amount of tasty and filling food at an affordable price, while also bringing people together around a cuisine that fosters community. Our user-friendly online catering platform makes it convenient for customers to customize catering orders, obtain instant quotes, and secure seamless deliveries. We are Tex-Mex catering professionals."
Whether across Texas, or in Kansas City or Denver, or coming soon to Chicago and Pittsburgh, Fajita Pete's restaurants train and execute daily to provide loyal customers with a stress-free and memorable catering experience that features mouthwatering fajitas and freshly prepared sides. For more information about Fajita Pete's please visit www.franchisefajitapetes.com.
About Fajita Pete's

Fajita Pete's is a Houston-based "fresh off the grill" fajita concept focused on a simple menu with premium-quality, handmade menu items. Founder Pete Mora envisioned a better way to serve guests by focusing on catering, delivery and takeout, a model that has proven successful since 2008. Fajita Pete's earned a spot on QSR Magazine's 40/40 List: America's Hottest Startup Fast Casuals, the 2022 Fast Casual Movers and Shakers List, QSR's Best Franchise Deals for 2021, and was twice awarded first place at Houston's Fajita Festival. Fajita Pete's currently has 30 open locations with 69 more locations awarded. For more information, visit fajitapetes.com and follow Fajita Pete's on social media for the latest news and announcements.
SUZI PROKELL
Prokell Publicity, Inc.
+1 817-771-1423
email us here
Visit us on social media:
Facebook
Twitter
LinkedIn
Instagram


Originally published at https://www.einpresswire.com/article/646901317/fajita-pete-s-catering-soars-in-2023