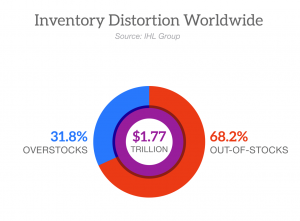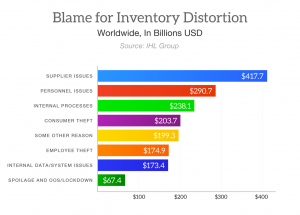 What is to blame for Out-of-Stocks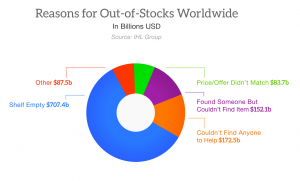 Reasons Customers Report For Out-of-Stocks
Progress made in every region worldwide, but rapid growth of theft and Organized Retail Crime has overshadowed systems and process gain in the United States.
In the United States the incredible rise in theft has outpaced those improvements leading to 17.7% more out-of-stocks for North America than the previous year."
— Greg Buzek
NASHVILLE, TENNESSEE, UNITED STATES, August 1, 2023/EINPresswire.com/ — The disconnect between what consumers want to buy at their local stores and what they actually do buy continues to drive discontent according to new research from analyst firm IHL Group, but consumers have seen improvements in on-shelf availability. The total cost to retailers for Inventory Distortion (combined cost of overstocks and out-of-stocks) amounts to $349b in lost sales for US and Canadian retailers in 2022.
"Improvements in the supply chain and product availability around the world in the past year have been dramatic leading to fuller shelves," said Greg Buzek, President of IHL Group. "Systems and processes have seen great improvement in the last 3 years. Unfortunately, in the United States the incredible rise in theft has outpaced those improvements leading to 17.7% more out-of-stocks for North America than the previous year."
The research study – "Inventory Distortion – The Good, the Bad, the Ugly" looks at the true costs and experiences of consumers as they report reasons that they leave stores without buying items they planned to purchase other than the price was too high. These reasons range from sizes not being available, lack of employees to help, products locked up or in the stockroom, or simply empty shelves. The research also looks at the cost of overstocked merchandise, which is merchandise that was simply mis-forecast or didn't arrive in time for the season that then has to be heavily discounted.
In total, the cost of Inventory Distortion (the combined cost of out-of-stocks and overstocks) amounted to a staggering $1.77 trillion worldwide. This is down $172 billion from the previous years. Out-of-stocks represent 68.2% ($1.2 trillion) of the issue, with Overstocks representing 31.8% ($562 billion).
Some other highlights of the research:
• Supplier issues remain the largest driver of inventory distortion – $418 billion

• Theft and Organized Retail Crime jumped to $379 billion with the greatest growth in the United States.

• Personnel Issues (either lack of personnel or poor training) causes $291 billion

• Poor systems ($239 billion) and inefficient processes ($173 billion) are other major causes of inventory distortion

• Spoilage and lockdown issues have seen major improvements but still are contributing $67.4 billion to the issue, but this is down from nearly $570 billion in losses in 2020.
The independent research study is available here for free thanks to distribution partnerships with Title Sponsors Blue Yonder, Sensormatic Solutions by Johnson Controls and Zebra Technologies, Silver Sponsors IBM and Pull Logic.
About IHL Group

IHL Group is a global research and advisory firm headquartered in Franklin, Tennessee, that provides market analysis and business consulting services for retailers and information technology companies that focus on the retail industry. For more information, see www.ihlservices.com, call 615-591-2955 or e-mail [email protected].
Gregory Buzek
IHL Group
+1 615-591-2955
email us here
Visit us on social media:
Twitter
LinkedIn


Originally published at https://www.einpresswire.com/article/646754391/global-retail-losses-reach-1-77-trillion-industry-battles-inventory-distortion-despite-172-billion-in-improvements