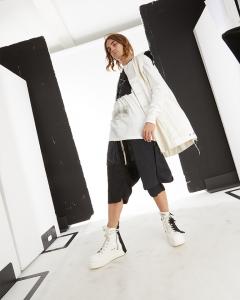 I am loving the current conversation in the fashion industry about thinking more responsibly about production and waste."
— Rick Owens
NEW YORK, NEW YORK, U.S.A. , June 20, 2023/EINPresswire.com/ — In celebration of luxury online shop Vitkac's 10 year anniversary, renowned fashion designer Rick Owens joins forces with Arturo Boem, the visionary Creative Director of Swampgod, to create an exclusive capsule collection. This collaboration marks a momentous occasion in the world of fashion as it intertwines the ingenuity of two industry powerhouses. By upcycling pieces from past seasons, deconstructing them, and infusing them with new life, the Swampgod x Rick Owens collection for Vitkac showcases a harmonious fusion of creativity, sustainability, and the iconic Rick Owens aesthetic.
Rick Owens, widely recognized for his avant-garde designs and unconventional approach to fashion, has consistently pushed the boundaries of the industry. His visionary perspective on sustainability aligns perfectly with the current conversation within the fashion world. With this collaboration, Owens underscores the importance of thinking responsibly about production and waste, solidifying his commitment to driving positive change in the industry.
The Swampgod x Rick Owens capsule collection boasts a meticulously curated selection of jumpers, t-shirts, trousers, shorts, shoes, and accessories, all united by a striking black and white color palette. Each garment has undergone a transformative process, where pieces from previous seasons have been deconstructed and reconstructed, breathing new life into every stitch. This innovative approach to fashion not only showcases the ingenuity of the designers but also promotes conscious consumption and reduced environmental impact.
The collection captures the essence of Rick Owens' signature aesthetic, effortlessly blending asymmetry, volume, and sleek silhouettes with the artistic touch of Swampgod. With an unrivaled attention to detail, the garments embody a sense of refined elegance and progressive design, offering a unique sartorial experience to fashion enthusiasts worldwide.
Vitkac, a true bastion of luxury and forward-thinking fashion, is the exclusive host for this extraordinary collaboration. The renowned Polish retailer's 10th anniversary serves as the perfect occasion to unveil this groundbreaking collection, available in limited quantities. Customers will have the opportunity to experience the harmonious marriage of Rick Owens' unparalleled design philosophy with Swampgod's creative prowess, resulting in a range that exudes sophistication, innovation, and a profound dedication to responsible fashion.
Rick Owens expresses his enthusiasm for this collaboration, stating, "I am loving the current conversation in the fashion industry about thinking more responsibly about production and waste." With this statement, Owens highlights his unwavering commitment to championing sustainability and embracing alternative approaches to fashion, igniting a dialogue that challenges the status quo and paves the way for a more environmentally conscious future.
The Swampgod x Rick Owens x Vitkac 10 year anniversary capsule collection is available exclusively at Vitkac luxury online store. Fashion enthusiasts and conscious consumers alike are invited to experience the epitome of innovative design and responsible production as they immerse themselves in this transformative collection.
About Rick Owens

Rick Owens is a renowned fashion designer whose avant-garde designs have captivated the industry. With a distinct aesthetic that challenges traditional norms, Owens continues to push the boundaries of fashion while embracing sustainability and responsible production.
About Swampgod

Swampgod is a creative powerhouse led by Arturo Boem, whose visionary perspective and artistic flair have propelled the brand to new heights. Known for their upcycling practices and innovative design, Swampgod embodies a commitment to sustainability and ethical fashion.
About Vitkac Luxury Online Shop

Vitkac luxury online shop offers an unparalleled selection of men's and women's designer bags, clothing, accessories, bags, and jewelry from over 200 prestigious brands. From established labels like Gucci and Saint Laurent to new favorites like Jacquemus and Off-White, Vitkac.com caters to the sophisticated tastes of fashion-conscious, high-end customers. Vitkac has a direct connection to over 200 brands and is able to offer their customers unique discounts and collections as partners with established designers.
Media Contact:

InterSearch Luxury Digital Marketing Agency NYC

Founded in 2007 by economist Celestine O. Chukumba Ph.D., InterSearchMedia luxury digital marketing agency is a leading online marketing company that serves clients globally. With offices in New York City, New Jersey, Lagos, and Atlanta, InterSearchMedia specializes in data-driven approaches to digital marketing strategies.
InterSearchMedia
InterSearchMedia Luxury Digital Marketing Agency NYC
email us here


Originally published at https://www.einpresswire.com/article/640502743/innovative-design-meets-sustainability-swampgod-x-rick-owens-for-vitkac