Main Summer Swing Nights 2023 Artwork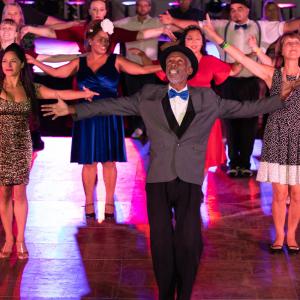 Dancers take the floor with our Big Band @ Summer Swing Nights
Summer Swing Nights returns to the Zimmerman Automobile Driving Museum with it's 13-member, vocal jazz big band. Sing, dance, eat; vendors, vintage cars & more
We are keeping high quality musical experiences, interactive dance concerts of a former era, alive. SSN is the flagship show and a chance to highlight our Swing Tones sound, unadulterated"
— Aaron Jacobs
GRANADA HILLS, CA, UNITED STATES, June 17, 2023/EINPresswire.com/ — Summer Swing Nights is back for the 2023 summer season opening August 4th! Now in its sixth year, the swingafied music series features a seven-piece band, swing dancing and The Swing Tones. The Swing Tones bring you back to the days of vocal jazz by blending big band sounds and nostalgic tunes of the swing era, with tight vocal harmonies and postmodern twists.
Executive Producer and founder Aaron Jacobs says this is the ultimate big band experience accessible for all generations of people in Southern California. "We are keeping high quality musical experiences, interactive dance concerts of a former era, alive," Jacobs said. "For me, SSN is the flagship show and a chance to highlight our Swing Tones sound, unadulterated."
This year SSN returns to The Automobile Driving Museum in El Segundo. The big band includes seven vocalists, and seven band members. They will also be joined by The LA Swing Dance Posse, vintage vendors and local food trucks.
When the COVID-19 pandemic hit in 2020, musical performances came to a halt, but not for Jacobs or The Swing Tones. Jacobs says the experience was difficult but with assistance from the ADM and LA Swing Dance Posse, the team produced several drive-in shows all outdoors. Now that vaccines are easily available and mask mandates have lifted across Southern California, The Swing Tones are back and better than ever. "It's been amazing," Jacobs says. "It's what we've been missing from our lives during the big quarantine. Nothing beats the live music experience, sans auto-tune and synthesized sounds."
Tickets for Summer Swing Nights 2023 go on sale now at http://SSN2023.com. Tickets range from $35 to $100. Prices go up at the door.
Watch clips here. Follow the group on Facebook, Twitter and Instagram.
More about the Swing Tones: The Swing Tones debuted at Summer Swing Nights in 2018 at The Automobile Driving Museum in El Segundo with a mission to preserve the legacies of big band and swing music while contemporizing the experience with some modern twists. Highlighting vocal harmonic sounds such as "The Andrews Sisters" and "The Manhattan Transfer," The Swing Tones also take modern tunes and "swingify" them, similar to the popular Postmodern Jukebox.
More about the ADM: The Automobile Driving Museum was founded in 2002 by car collectors Stanley Zimmerman and architect Earl Rubenstein. Its mission is to "collect, preserve, exhibit and ride in historic vehicles." The museum contains about 130 classic, antique, and vintage automobiles created between 1886 and 2000, of which roughly half are on display at any time. A portion of ticket price supports the operation of the Automobile Driving Museum (ADM), a 501(c)3 non-profit, and is tax-deductible. The ADM helps support their High School Restoration program with Da Vinci High School in El Segundo, Rides for Warriors program with local VA Hospitals, and scholarships to automotive technology students.
More about LASDP: Los Angeles Swing Dance Posse (LASDP) The Los Angeles Swing Dance Posse is a nonprofit organization formed to honor contributions of African-Americans to vernacular jazz dance through performance and education. LASDP teaches the history of those styles from the 1800s to the present. This provides the opportunity to fill in knowledge gaps of Swing dance history, a history that has deep roots in Black culture. The mission is to educate, preserve, promote, teach and perform the vernacular jazz dances.
Aaron Jacobs
Aaron Jacobs Productions
+1 3233656650
email us here
Visit us on social media:
Facebook
Twitter
LinkedIn
Instagram
YouTube
TikTok
Other
Summer Swing Nights Promo Video


Originally published at https://www.einpresswire.com/article/640063518/summer-swing-nights-for-2023